Volunteer opportunities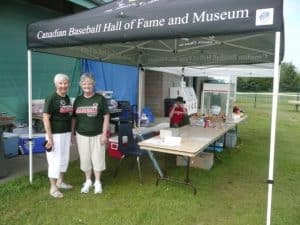 Several volunteer positions are always available at the Hall of Fame. We are looking for tour guides, BBQ'ers, bingo helpers, office support and site support.
If you are interested please call 519-284-1838 or email baseball@baseballhalloffame.ca
Employment opportunities
The Canadian Baseball Hall of Fame and Museum in St. Marys, Ontario is looking to hire for the summer of 2017.
Museum Tour Guide:
1 person – May (part-time-20hrs/week) & June-end of August (full-time-35hrs/week)
1 part-time-June-end of August (10-15hrs/week)
Responsibilities:
-Greet visitors and provide them with the information and assistance required to make their visit to the Hall of Fame a pleasant and rewarding experience.
-Selling merchandise
-working with the artifacts and displays
-Help plan, promote, implement and assist with Hall of Fame events.
Qualifications: baseball interest, museum knowledge a plus, experience working with others, handling cash and enrolled in high school or post-secondary school
Pay: – $12.25-$13.25 per hour (weekdays and weekends)
Start Date: – beginning of May
Site Maintenance Positions:
1 person mid-April-end of August (40hrs per week)
1 person mid-April-end of October (40hrs per week)
Property: – 32 acre site, 5 ball fields, museum grounds
Responsibilities:
–field preparation and maintenance
-machine operation and maintenance
-turf care
-cleaning
Qualifications: – valid Drivers License, ability to operate machinery, physical labour, enjoy outside work, able to work with others
Pay: – $12.75-$13.75 per hour (weekdays and weekends)
Start Date: – mid-April
Deadlines Feb 28, 2017
Cover letter and resume can be emailed to baseball@baseballhalloffame.ca or dropped off at 140 Queen St. E. in St. Marys or faxed to 519-284-1234
Canadian Baseball Hall of Fame and Museum
Contact: Scott Crawford
Address: 140 Queen St. E. PO Box 1838, St.  Marys Ontario N4X 1C2
Phone: 519-284-1838
Fax: 519-284-1234
Email: baseball@baseballhalloffame.ca
Website: www.baseballhalloffame.ca