Since its inception as a non-profit, charitable foundation in 1982, the Canadian Baseball Hall of Fame & Museum has been dedicated to preserving Canada's rich baseball heritage. Originally located in Toronto at both Exhibtion Place and then Ontario Place until 1989, the Hall then moved to its current location in St. Marys, Ontario in 1994 and opened in 1998.
The Hall of Fame strives to make Canadians proud of the game's long history in their country. Baseball's origins in Canada date back to 1838, when a game closely resembling baseball in its current form was played in the nearby community of Beachville, Ontario on June 4, 1838.
A select group of baseball legends – including pro ballplayers, amateurs, builders, and honorary members – has been enshrined in the Hall. Through their unparalleled contributions, these men and women have helped popularize the sport in Canada.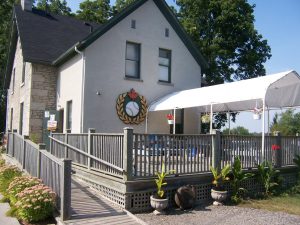 Why St. Marys, Ontario?

St. Marys has close ties with the beginning of baseball in Canada. One of St. Marys' early settlers, Dr. Adam Ford, wrote an article that was published in a magazine called American Sporting Life in 1886 that described a game played in the nearby community of Beachville between Beachville and Zorra Township that closely resembled baseball in its current form. Ford later organized a baseball league in St. Marys and was a Doctor and the Mayor of St. Marys.
The second main reason the Hall of Fame is in St. Marys is because the St. Marys Cement Company donated 32 acres of land to the Hall of Fame.
The St. Marys Rotary Club was the first club to join hands with the Hall of Fame and help establish what we have today. Still today the Rotary Club helps with numerous volunteer hours and cash donations.
Also, a local firm called The St. Marys Wood Speciality Company added the production of baseball bats to its product line at the turn of the 20th century and the wood speciality company stayed in St. Marys until the early 1930's when it moved to Hespeler, Ontario (Cambridge area). The St. Marys bat became very popular and well known throughout the country and was the forerunner of the Cooper bat now used in the major leagues. Today you can find information about this company inside the Subway store on James St.
For more information about the Canadian Baseball Hall of Fame & Museum, please call us at519-284-1838.