Home » Sponsorship » Fundraising
Fundraising
The Hall of Fame is always working on fundraising initiatives to raise money for the future of the Hall of Fame. Currently we have two unique opportunities for you to consider.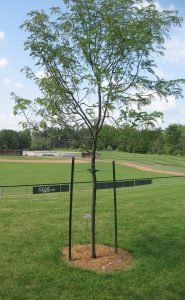 TREES
We are currently planting trees around our site to beautify the Hall of Fame for years to come. The cost to have a tree planted is $1500. This will allow us to plant the tree and look after it for years to come. Along with each tree comes a plaque containing your words and some information about the tree. Limited types of trees are available and we only plant in the spring and fall.
BENCHES
Around our 32 acre site we have started places benches overlooking our three baseball fields. For $1500 you can purchase a bench for you and your loved ones. Each bench will contain a plaque with your choice of
words.
 If you are interested in any of these ideas please contact the Hall of Fame at 519-284-1838 or email baseball@baseballhalloffame.ca