Home » Summer Camp-KOD
Summer Camp-KOD
CAMP SPOTS STILL OPEN FOR 2014, BUT ACT FAST!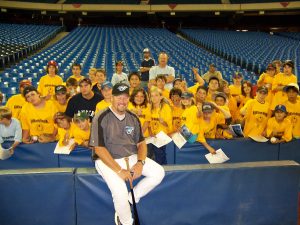 The Hall of Fame, located in St. Marys, Ontario is currently in our 12th year of hosting the popular Kids on Deck summer baseball camp in July.  It is the only week-long residential (sleep-over) baseball camp offered in Canada. This years camp is currently running from Sunday, July 6 (afternoon) until Saturday, July 12 (morning). If we run a second week of camp it will run from July 13-19, but the first week has to fill up first.
CAMP HIGHLIGHTS:
1. Held on beautiful 32 acre site at the Canadian Baseball Hall of Fame & Museum
2. Top notch instructors including Hall of Famers, National Team Players, former pro players and top level coaches.
3. Individual and group instruction
4. Nutritious Food
5. Quality Accommodations
6. Priority given to safety and security
7. Focus on FUNdamentals of game & postive reinforcement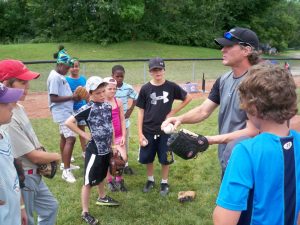 8. Trip to the Toronto Blue Jays games (arriving early to watch batting practice and meet players!!)
9. Cultural Awareness and Social Justice discussions
10. Day Rate option is available, but will miss evening activities
11. 10% discount until December 31, 2013
12. 5% discount until March 31, 2014
13. 5% discount for second family member
For more information about the Kids on Deck camp please email the Hall of Fame.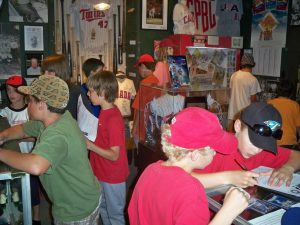 This camp is for both boys and girls, ages 9-15 and from beginners to players with tons of experience. We focus on the FUNdamentals of the game and use baseball as a medium to teach social justice and cultural awareness to the boys and girls.
Cancellations: 100% refund if requested prior to June 1. 50% refund if requested prior to June 15.
For more information about the Canadian Baseball Hall of Fame & Museum, please call us at 519-284-1838.