The Canadian Baseball Hall of Fame & Museum envisions a culture which champions education, respect, diversity and healthy lifestyles across generations.  The Hall is highly committed to this vision and incorporates it in all aspects of programming, especially for the younger generation.  A healthy and respectful youth leads to a healthy and respectful Canada.  At this time, we ask for your help to continue our work nurturing children and youth by teaching them life lessons through the game of baseball.
At the Hall, we offer the following programs for youth: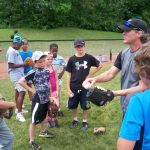 Kids on Deck Summer Camp
Kids on Deck is for boys and girls, ages 9-15, from beginners to more experienced players. We focus on the FUNdamentals of the game and use baseball to teach social justice and cultural awareness to the players.
Spring Training
A free six-session program open to boys and girls aged 6-16 with a wide range of experience.  This program teaches the participants baseball skills and gets them ready for the upcoming ball season.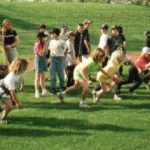 School Tours
School groups are given the opportunity to come to the Hall of Fame to learn about the game and history of baseball and to play ball.
Minor Ball
The Hall hosts more than 450 games at its site every year.  A fourth ball field is currently being built to accommodate the growing need for space for children to play.
Your gift to the Canadian Baseball Hall of Fame & Museum will help to continue these programs and encourage young people to lead a healthy and respectful lifestyle and to develop a lifelong love of the game.  Consider this:
____ Your gift of $35 provides new ball equipment to be used at Kids on Deck, Spring Training and school tours.
____ Your gift of $75 provides a school group an educational tour and a physical activity program during their visit.
____ Your gift of $125 helps maintain the fields for an optimal playing experience.
____ Your gift of $200 provides one day of top-quality coaching at the Kids on Deck summer camp.
____ Your gift of $500 helps us bring the history of baseball to kids across Canada through outreach programs.
Thank you for considering a gift to the Canadian Baseball Hall of Fame & Museum to support Canadian youth in leading healthy and respectful lives.
The best three ways to donate are to use CanadaHelps, PayPal (use email address baseball@baseballhalloffame.ca) or click on the DONATION/REPLY FORM link…….