Watch here for the exciting new event to kick-off the 2019 induction weekend celebrations.
See below for the 2018 excitement that was held!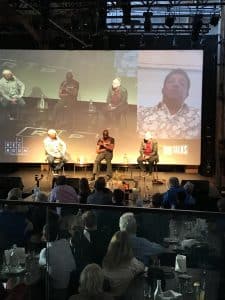 The Canadian Baseball Hall of Fame and Museum proudly presents an exclusive VIP Induction Weekend kick off fundraising event, in partnership with Pitch Talks. The event will feature a meet & greet session along with food and drinks with the 2018 inductees Pedro Martinez, Lloyd Moseby and Bill Humber and other special guests.
Following the meet & greet, Blue Jays broadcaster Dan Shulman and the 2018 inductees will take the stage for a special Pitch Talks panel. Following this panel will be Blue Jays broadcasters Kevin Barker, Mike Wilner and Dan Shulman talking baseball, and a third panel will follow with former Blue Jays star third baseman, Kelly Gruber and current first base coach Tim Leiper. Other special guests in attendance during include Hall of Famers Paul Beeston, Howard Starkman, Ron Taylor and Murray Cook.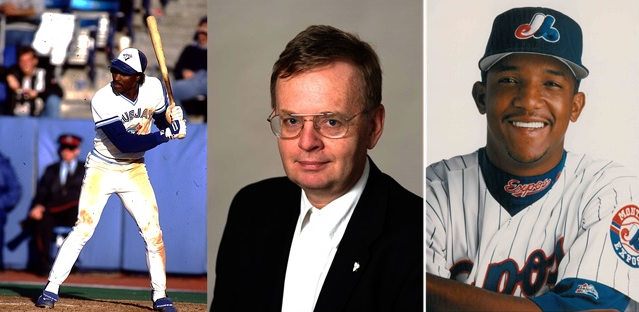 At the event, VIP guests will enjoy food, drinks and unique meet & greet session with the 2018 inductees; Pedro Martinez, Lloyd Moseby and Bill Humber as well the other special guests prior to start of the show.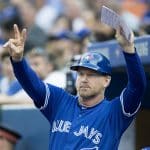 Tickets for the Canadian Hall of Fame fundraising event are $125, plus taxes and include food, drinks and the full VIP Experience (a partial tax receipt will also be issued). Also available are $25 tickets for Pitch Talks show, starting at 7:00 p.m. (*Please note a tax receipt will not be issued for the $25 ticket.)
The event takes place on Thursday, June 14, 2018 at The Rec Room (255 Bremner Blvd. Toronto). Both ticket options can be purchased here: https://homestand.ca/event/pitch-talks-june-14th-2018/
Doors: 5:50 p.m.
VIP Meet & Greet: 6:00 p.m.
Event Program: 7:00 – 9:00 p.m.
This event is not an autograph session so there are no guarantees for autographs. Please be respectful of the inductees and other special guests.
In addition, there will be a host of silent auction items for bid throughout the evening, including these three great baseball trips. There will also be Hall of Fame merchandise for sale.
Milwaukee Brewers package for 4 people
Choice of July 7-8, 2018 (Braves) or July 21-22, 2018 (Dodgers)
INCLUDES: tickets to 2 Brewers games at Miller Park; on field for batting practice with Chatham native and Hall of Famer Doug Melvin; lunch with Doug Melvin; player autographs and photo opportunity; tour of Miller Brewery and/or the Harley Davidson Museum; one hotel room for two nights.
Atlanta Braves package 
July 28, 2018 weekend
INCLUDES: tickets, the opportunity to watch batting practice on the field, breakfast with GM Alex Anthopolous – more details announced soon.
Boston Red Sox package 
For a mutually agreed upon game date. Game must be picked by July 13, 2018
INCLUDES: 4 tickets to one game at Fenway Park in 2018 (No NYY or interleague games), VIP tour of Fenway Park, the opportunity to watch batting practice from the warning track, dinner in the Dell EMC club.
Also available for bid are autographed items from Pedro Martinez and Lloyd Moseby, plus:
Joey Votto signed ball, Carlos Delgado signed ball, Tim Raines limited edition signed 2013 induction bat, Fergie Jenkins limited edition signed 1987 induction bat, Roy Halladay signed Toronto Blue Jays jersey, Sergei Bobrovsky signed Columbus Blue Jackets jersey, Roy Halladay signed 2017 induction program, Vladimir Guerrero signed 2017 induction program, Curtis Granderson signed ball.
All proceeds from the silent auction are in support of the Canadian Baseball Hall of Fame.
For more information, or to request media interviews:
Scott Crawford
scott@baseballhalloffame.ca
Phone: 519-284-1838
To learn more: baseballhalloffame.ca