Home » What's On » London Salutes Canadian Baseball
London Salutes Canadian Baseball
LONDON SALUTES CANADIAN BASEBALL 2014 BREAKFAST IS ON FRIDAY, JUNE 20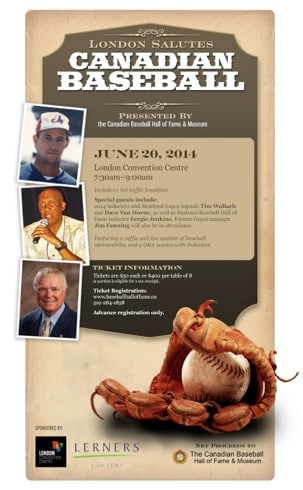 The Canadian Baseball Hall of Fame's fourth annual "London Salutes Canadian Baseball" fundraising breakfast sponsored by LERNERS LAWYERS and LONDON CONVENTION CENTRE.
The breakfast will take place on Friday, June 20 from 7:30am to 9:00am at the London Convention Centre.
To order tickets click HERE.
For Sponsorship Opportunities click HERE.
Come join the Hall of Fame as we celebrate Canadian Baseball. Special guests include Tim Wallach, Dave Van Horne, Fergie Jenkins, plus others, along with Jim Fanning. The morning will include: Q & A with the stars, live auction, draws, London baseball history presentation and O'Canada by the legendary Michael Burgess.
For more information or to purchase tickets call the Hall of Fame at 519-284-1838 or click HERE TO EMAIL
 London Salutes Canadian Baseball 2013