Description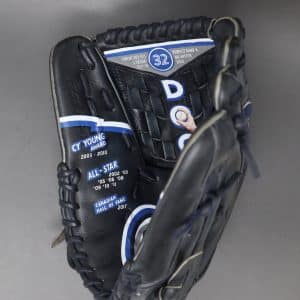 Roy Halladay Painted Baseball Glove Art
Unique, hand-painted baseball glove featuring "Doc" by artist Sean Kane.
Glove: Approximately 10 in. wide x 11 in. tall x 6 in. deep.  (25 x 28 x 15 cm)
– Original acrylic painting on Nike Elite Pro model glove similar to Doc's game gloves
– Created with professional-quality acrylic painting materials to protect its longevity and lifetime of enjoyment
– 120-plus hours dedicated towards research, glove sourcing, custom design and detailed painting of this unique baseball collectible
– Includes museum display stand for enjoying in your office, living room or fan cave
"Doc" is celebrated with this hand-painted depiction on a glove similar to the style he wore while he was on the mound for the Blue Jays.
Halladays' Cy Young Awards and eight All-Star appearances are highlighted with detailed hand-lettering along with his inductions into the Canadian Baseball Hall of Fame in 2017 and National Hall of Fame in 2019.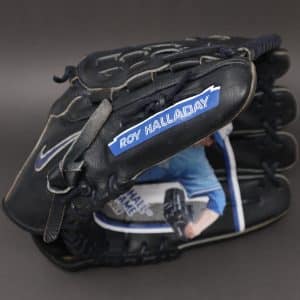 His Blue Jays retired number 32 are accompanied by career stats and Perfect Game / No-hitter details.
The design incorporates elements of the Blue Jays logo from 2004-11, including the "J" swirl and two-colour stripe which mimics the top lines of that era's Jays logo.
Halladay's name is hand-painted in the classic Blue Jays typeface on the backside thumb panel.
"Doc" is sure to spark memories of cheering on the Jays!
Sean Kane is an artist and designer who incorporates classic baseball gloves in his paintings featuring greats of the game. His work is in the permanent collection of The National Baseball Hall of Fame and Museum and Negro Leagues Baseball Museum. Sean creates work for MLB teams, Hall of Fame players, institutions and avid collectors from his studio in Guelph, Ontario.