By Kevin Glew/Cooperstowners in Canada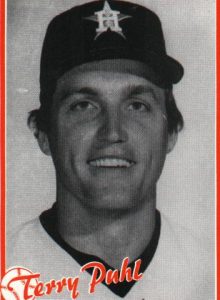 When Terry Puhl rapped a base hit to right field in the eighth inning of Game 5 of the 1980 National League Championship Series (NLCS), the Melville, Sask., native set a new record for most hits in an NLCS.
It was Puhl's 10th hit of that grueling, five-game battle between the Astros and the Phillies.
"I got down to first base and they flashed up on the scoreboard that I had just broken Pete Rose's record (for most hits in an NLCS)," recalled Puhl, "and Pete Rose just happened to be at first base for the Phillies. And he looks at me and says, 'TP, that's what records are all about. They're made to be broken.'" Read more en cliquant ici.