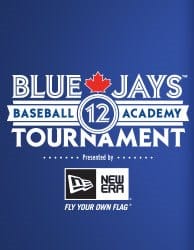 The Blue Jays Baseball Academy, in collaboration with Hall of Famer Roberto Alomar will host the second annual Tournament 12 showcase baseball tournament at Rogers Centre, September 16-20. Tournament 12 will highlight the best Canadian amateur players with college eligibility. Eight teams will represent the Canadian provinces. Baseball Scouts and recruiters are encouraged to attend this event with the benefits of preferred seating along with a tournament scouting guide.
All players will be selected by the Blue Jays Baseball Academy with the assistance of the Blue Jays Scouting Department, Baseball Canada, and the Major League Baseball Scouting Bureau. All tournament games will be umpired by members of the Baseball Canada High Performance program for Canadian umpires.
Lire la suite en cliquant ici.