The Canadian Baseball Hall of Fame and Museum opened in 1983 in Toronto, Ontario and moved to St. Marys, Ontario in 1994. The Hall of Fame is dedicated to preserving the history of baseball throughout the museum and promoting the future of the game through our Kids on Deck summer baseball camp.
The Hall of Fame welcomes your interest, thoughts and comments. Please take a few moments to share your thoughts with us.
If you would like to be added to our email list to receive updates about the Hall of Fame please click HERE.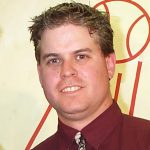 Scott Crawford Director of Operations
scott@baseballhalloffame.ca
Jocelyne Gall Administration and Finance Coordinator
jocelyne@baseballhalloffame.ca
Main Contact Information:
Canadian Baseball Hall of Fame & Museum
PO Box 1838, 140 Queen St. (Office), 386 Church St. S. (Museum)
St. Marys, ON N4X 1C2
Phone: 519-284-1838, Toll-free: 877-250-2255, Fax: 519-284-1234
baseball@baseballhalloffame.ca
Hall of Fame Membership Program:
Toll Free: 877-250-2255
Fax: 519-284-1234
Website: Membership information
Email: Membership Program
Museum Store:
Phone orders and customer service: 877-250-2255
or Shop online
Photography Department:
Phone: 519-284-1838
Fax: 519-284-1234
Email: Photography Department
Public Relations Department:
Phone: 519-284-1838
Fax: 519-284-1234
Email: Public Relations Department
Education Department:
Phone: 519-284-1838
Fax: 519-284-1234
Email: Education Department
Hall of Fame Research Center:
Phone: 519-284-1838
Fax: 519-284-1234
Email: Research Center