Home » What's On » Induction Day
Induction Day
2015 Induction Ceremony
Saturday, June 13 at 1pm
2015 Inductees are Carlos Delgado, Matt Stairs, Corey Koskie, Felipe Alou and Bob Elliott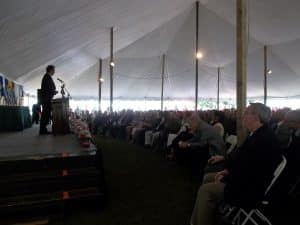 Purchase a 2015 Elite, Home Run or Grand Slam annual Membership and receive 2 reserved seats (if requested) for the Ceremony.
Buy a 2015 Home Run or Grand Slam Annual Membership and you can dine with the 2015 Inductees.
Induction Weekend Sponsorship opportunities HERE.
2015 Inductee Press Release
Schedule of events:
The days events are as follows for the 2015 Induction Ceremony.
9am-12pm – Baseball Family Street Festival – downtown St. Marys (inflatables, radar gun, Blue Jays alumni George Bell, Jesse Barfield, Devon White, Homer Bush, Candy Maldonado, and authors autographing, music)
9:00am-5:00pm – Hall of Fame & Museum open for tours
10:00am-11:30am – Press Conference with inductees at St. Marys Town Hall at 175 Queen St. E. (beside Tim Hortons) (media only-all one-on-one interviews must done during this time)
1:00pm-3:00pm – Induction Ceremony for Carlos Delgado, Matt Stairs, Corey Koskie, Felipe Alou and Bob Elliott 
3:30pm-5:00pm – Celebrity autograph session ($10 per person) – 2015 Inductees plus Fergie Jenkins, Steve Rogers, Jim McKean, Allan Simpson, Billy Atkinson, Paul Hodgson,
Directions:
GPS information
Museum: 386 Church St. S.
St. Marys Cement Company Field: 491 Water St. S.
Rotary Field GPS: 410 Church St. S.
Throughout the day come and enjoy our autograph session ($10 per person), BBQ, beer tent, ball games, silent auction and many other activities. Come early and enjoy these activities and many others and grab yourself a seat in the tent or outside in the sunshine.
Ballgames during the weekend:
Cement- Ontario Expos 14U DH at noon
Rotary- Ontario Expos 11U DH at noon
King Field- St. Marys Peewee vs Stratford game at noon
BASEBALL FAMILY STREET FESTIVAL – downtown St. Marys