Home » What's On » Induction Day
Induction Day
2014 INDUCTION CEREMONY – Saturday, June 21 at 11am
2013 INDUCTION DAY IS ON SATURDAY, JUNE 29TH AT 11AM
GEORGE BELL, TIM RAINES, ROB DUCEY, TOM CHEEK AND    NAT BAILEY
The whole day is open to the entire public and the Ceremony and parking are FREE.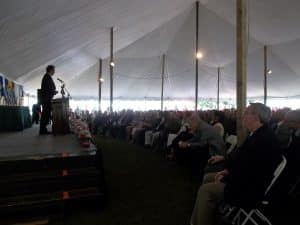 Purchase a 2013 Elite, Home Run or Grand Slam annual Membership and receive 2 reserved seats (if requested) for the Ceremony.
Buy a 2013 Home Run or Grand Slam Annual Membership and you can dine with the 2013 Inductees.
TOMMY LASORDA AUTOGRAPHED BALL WINNER – Ron Hatoski
Induction Weekend Sponsorship opportunities HERE.
Schedule of events:
The days events are as follows for the 2013 Induction Ceremony.
9:00am-10:30am – Press Conference with inductees at the Lind Sportsplex at 410 Water St. (media only-all one-on-one interviews must done during this time)
9:00am-5:00pm – Hall of Fame & Museum open for tours
11:00am-1:30pm – Induction Ceremony George Bell, Tim Raines, Rob Ducey, Tom Cheek and Nat Bailey
 2:00pm-4:00pm – Celebrity autograph session ($10 per person) - George Bell, Tim Raines, Rob Ducey, Shirley Cheek (Tom's wife), plus past Inductees Jim Fanning, Tom Henke, Ron Taylor, Pat Gillick, Steve Rogers, Allan Simpson and Claude Raymond plus Miss Canada International, Paul Spoljaric (MLB), Derek Aucoin (MLB), Billy Atkinson (MLB), Adam Stern (MLB), Bruce Hood (NHL), Ron Wicks (NHL), etc….
Ballgames during the day:
Cement Field:
12:30pm – Ontario Expos vs Ontario Expos
3pm – Casey Royals vs Ontario Expos
5pm – Ontario Expos vs Welland Bulletproof
Rotary Field:
Toronto Blue Jays Clinic – 2pm-CLICK TO REGISTER
7pm game Casey Royals vs Welland Bulletproof
Directions:
Museum: 386 Church St. S.
St. Marys Cement Company Field: 491 Water St. S.
Rotary Field GPS: 410 Church St. S.
Throughout the day come and enjoy our autograph session ($10 per person), BBQ, beer tent, ball games, silent auction and many other activities. Come early and enjoy these activities and many others and grab yourself a seat in the tent or outside in the sunshine.
ELITE, HOME RUN & GRAND SLAM MEMBERS RECEIVE TWO OR FOUR FREE RESERVED SEATS FOR THE INDUCTION CEREMONY (If requested prior to induction day). Learn how to become an ELITE, HOME RUN OR GRAND SLAM member by clicking
HERE
.