St. Marys, Ont. – Two men that helped make the Montreal Expos one of baseball's most competitive franchises of the 1980s will be inducted into the Canadian Baseball Hall of Fame on June 21 in St. Marys, Ont.
Long-time Expos third baseman Tim Wallach and former general manager Murray Cook will be honoured, along with legendary Expos broadcaster Dave Van Horne. Onetime Canadian national team coach and highly respected scout Jim Ridley will also be inducted posthumously.
The induction ceremony, which will take place starting at 1 p.m. on June 21 on the Hall of Fame grounds, will be part of four days of activities presented by the Town of St. Marys. The schedule of events will also include a celebrity slo-pitch game and home run derby on June 19, a London Salutes Canadian Baseball breakfast and the Hall's 18th annual celebrity golf tournament on June 20, a Baseball Family Street Festival on June 21 and a Toronto Blue Jays Honda Super Camp for kids on June 21 and 22. (See complete agenda below).
"Thanks to the efforts of our volunteers and sponsors, we've been able to add even more events to our induction festivities this year. There's truly something for everyone during the four days of activities," said Scott Crawford, the Hall's director of operations. "I'm very proud to honour the careers of four worthy inductees who, each in their own way, have made a permanent imprint on baseball in this country."
2014 Inductee Bios
Tim Wallach
Born in 1957 in Huntington Beach, Calif., Tim Wallach is the Expos' all-time leader in several statistical categories, including games played (1,767), hits (1,694), doubles (360), RBI (905) and total bases (2,728). Nicknamed "Eli" by his teammates, Wallach also ranks third all-time amongst Expos in runs (737) and fourth in home runs (204).
Chosen 10th overall by the Expos in the 1979 amateur draft, Wallach began his big league career as an outfielder before evolving into the best third baseman in the franchise's history. In 13 seasons with the Expos from 1980 to 1992, Wallach was selected to five all-star games (1984, 1985, 1987, 1989, 1990), won three Gold Gloves (1985, 1988, 1990) and captured two Silver Slugger Awards (1985, 1987). He was also named to the Topps All-Star Rookie team in 1981, topped the National League in doubles in 1987 and 1989 and finished fourth in National League MVP voting in 1987.
Wallach spent the final four seasons of his 17-year big league career in Los Angeles with the Dodgers and the Angels. Since retiring as a player, the long-time Expo has become a highly regarded coach at both the professional and collegiate levels. This season, he is serving as the Los Angeles Dodgers bench coach. In recent years, Wallach has been inducted into the Cal State Fullerton (his alma mater) Titan Athletics Hall of Fame (2005) and the College Baseball Hall of Fame (2011).
Dave Van Horne
He calls games for the Miami Marlins now, but for hundreds of thousands of Canadians Dave Van Horne will always be the voice of the Montreal Expos. The Easton, Pa., native was performing radio play-by-play duties for the Richmond Braves (Atlanta Braves' Triple-A affiliate) from 1966 to 1968 when he first met John McHale (then the Atlanta Braves president). When McHale became president of the Expos, he offered Van Horne his first big league radio gig in 1969.
Behind the mike for the Expos' first game on April 8, 1969 until the end of the 2000 season, Van Horne became known for his smooth baritone and trademark catch-phrases like "Up, up and away!" when the Expos hit a homerun. In his 32 seasons with the Expos, he broadcast the down-to-the-wire pennant races in 1979 and 1980, the team's only post-season run in 1981 and Dennis Martinez's perfect game on July 28, 1991 – a performance that inspired, perhaps, his most famous call, "El Presidente, El Perfecto!"
In 2001, Van Horne accepted the radio play-by-play position with the Florida Marlins and he would later broadcast the club's World Series-winning 2003 campaign. Fittingly, Van Horne was on hand on September 29, 2004 to call the final home game in Expos history from the visiting radio booth.
In 1996, Van Horne received the Canadian Baseball Hall of Fame's Jack Graney Award for broadcasting excellence and 15 years later, he was the recipient of the National Baseball Hall of Fame's equivalent honour, the Ford C. Frick Award. Now in his 46th year of broadcasting major league games, Van Horne is set to become the second Canadian Baseball Hall of Fame inductee (Tom Cheek is the other) to have won both the Jack Graney and Ford C. Frick Awards.
Murray Cook
Born in Sackville, N.B., in 1940, Murray Cook has spent more than half a century in professional baseball. After graduating from Ohio University with a master's degree in history in 1962, he was signed by the Pittsburgh Pirates. He played shortstop and third base in the lower levels of their system for parts of four years, before hanging up his spikes to become the general manager of their Class-A affiliate in Gastonia in 1966.
Cook impressed in his new role and the Pirates promoted him to their big league front office in 1967. He was named the team's assistant farm director the following year and soon rose through the ranks to become the club's assistant director of minor league operations in 1972 and director of scouting in 1977.
After 21 years in the Pirates organization, Cook was hired to be the New York Yankees scouting director in January 1983. Just over six months later, he was named the club's general manager, becoming just the second Canadian to be a big league GM (Huntsville, Ont., native George Selkirk was the Washington Senators GM from 1964 to 1969). Cook remains just one of five Canadians to serve as a GM at the major league level. The others are Selkirk, Gord Ash (Toronto Blue Jays, 1995 to 2001), Doug Melvin (Texas Rangers, 1994 to 2001; Milwaukee Brewers, 2003 to present) and Alex Anthopoulos (Toronto Blue Jays, 2009 to present).
In 1984, Cook was reassigned to the position of vice-president and director of scouting with the Yankees, before he replaced John McHale as general manager of the Expos on September 5 of that year. Drafting Randy Johnson, signing free agent Dennis Martinez and rebuilding the Expos into a surprising contender were among the highlights of his close to three years in Montreal.
Following his tenure with the Expos, he served as the general manager of the Cincinnati Reds in 1988 and 1989. Since 1990, he has worked in scouting capacities for the Minnesota Twins, Miami Marlins, Boston Red Sox and Detroit Tigers. In 2010, he was named East Scout of the Year for his contributions to the scouting field. He is currently the Tigers' East Coast regional cross checker.
Jim Ridley
After two seasons as an outfielder in the Milwaukee Braves organization in 1964 and 1965, Toronto native Jim Ridley returned to Canada where he would have a significant impact on baseball in his home country for the next four decades.
While continuing his playing career in the Intercounty Baseball League – where he was named league MVP with Stratford in 1974 – Ridley launched his storied coaching and scouting career. He began as a part-time scout with the Detroit Tigers in 1973, before joining the Toronto Blue Jays in 1976 to run the club's first tryout camp in Utica, N.Y. In his 26 years as a scout with the Blue Jays, Ridley was the driving force behind the club's decisions to sign Canadians like Paul Spoljaric, Rob Butler and David Corrente. He also served as a coach with the Blue Jays' rookie-level affiliate in Medicine Hat from 1978 to 1980.
A highly respected coach at the local level, Ridley also coached the Canadian junior national team from 1983 to 1988, leading the squad to bronze medals at the World Junior Baseball Championship in 1983 and 1987. In 1988, he coached the Canadian Olympic baseball team and three years later, he was tabbed to manage Canada's squad at the Pan Am Games. Starting in 2002, Ridley served as a scout with the Minnesota Twins. Rene Tosoni and Jon Waltenbury are among the Canadians he signed and brought into the Twins organization.
Ridley passed away from cancer on November 28, 2008. Each year, the Canadian Baseball Network presents the Jim Ridley Award to the country's top scout in his memory.
Agenda of Events
The Hall would like to acknowledge the Town of St. Marys, the Toronto Blue Jays and St. Marys Cement Company for their sponsorship and support in making the following events possible:
Thursday, June 19
Event: Home Run Derby & Celebrity Slo-Pitch Game
Time: 6 p.m. – Home Run Derby – Team Canada Slo-Pitch players, including Todd Cadenhead, Kyle Knetchel and Jeff Gare vs. Team Canada Fastball players, including St. Marys resident Dale Levy.
7 p.m. – Celebrity Slo-Pitch Game – Team Wallach vs. Team Jenkins
Location: Rotary Field on the Hall of Fame grounds, 386 Church Street
Cost: Free
Celebrities scheduled to appear at the game include Fergie Jenkins, 2014 inductees Tim Wallach, Dave Van Horne and Murray Cook, and past inductees Steve Rogers and Jim Fanning. Ex-big leaguers Paul Spoljaric, Billy Atkinson, Derek Aucoin, John Upham and Dave Davidson will also be on hand. Other athletes participating include St. Marys Lincolns players Fraser Lewis and Mike Siddall, boxer Fitz Vanderpool, special Olympian Jesse Clifford and Jim Ridley's son Jeremy (who was drafted by the Blue Jays in 2000). Food and beverages will be available for purchase.
Friday, June 20
Event: London Salutes Canadian Baseball breakfast sponsored by Lerners and the London Convention Centre. Special guests include Tim Wallach, Dave Van Horne, Fergie Jenkins, George Bell, Duane Ward and Devon White. Former Montreal Expos executives Murray Cook (2014 inductee) and Jim Fanning (2000 inductee) will also be in attendance.
Time: 7:30 a.m. to 9 a.m.
Location: London Convention Centre, 300 York Street
Cost: Tickets are $50 each or a table of eight for $400. Advance registration only. To order tickets, visit the Hall's website.
This event will feature a hot buffet breakfast, a presentation on London baseball history, the national anthem sung by renowned Canadian actor and singer Michael Burgess, a live auction and raffle and a Q&A session with the baseball greats in attendance.
Friday, June 20
Event: 18th Annual Celebrity Golf Classic and Banquet
Time: Registration at 10 a.m. Tee-off at 11 a.m. Banquet starts at 5 p.m.
Location: St. Marys Golf and Country Club, 769 Queen Street East, St. Marys, Ont. Banquet will be held on Hall of Fame grounds, 386 Church Street.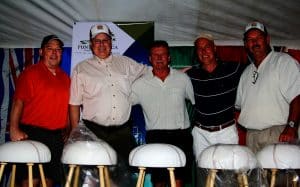 Cost: $1,250 per foursome or $250 per individual player. There's still room for a few foursomes. You can also purchase tickets to the banquet only for $60 each. Doors open for the banquet at 5 p.m. To register, please call (519) 284-1838 or e-mail us at baseball@baseballhalloffame.ca
Your registration fee includes 18 holes of golf, a continental breakfast, lunch, a supper banquet, hole sponsorship and the opportunity to golf with a celebrity. Individuals (who pay $250) will enjoy all the same perks, with the exception of the hole sponsorship.
Celebrities will include 2014 inductees Tim Wallach, Dave Van Horne and Murray Cook, as well as past inductees Fergie Jenkins (1987), Jim Fanning (2000), Don McDougall (2002), Steve Rogers (2005) and George Bell (2013). Ex-big leaguers Devon White, Duane Ward, Billy Atkinson, Larry Landreth, Paul Spoljaric, Dave Davidson, John Upham and Derek Aucoin will also being teeing it up, along with Blue Jays radio personality Mike Wilner, former Olympian Jon Lockwood, renowned singer and actor Michael Burgess, onetime Toronto Maple Leafs forward Mark Bell, Stanley Cup champion player and coach Terry Crisp and ex-NHL official Bruce Hood.
Saturday, June 21
Event: Baseball Family Street Festival
Time: 9 a.m. to noon
Location: Queen Street (downtown St. Marys)
Cost: Free
This event will feature music, Toronto Blue Jays inflatables, store sales, food and book signings. There will also be appearances by Toronto Blue Jays alumni George Bell, Duane Ward and Devon White, as well as Blue Jays mascot, ACE, between 10 and 11:30 a.m.
Saturday, June 21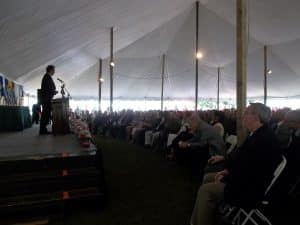 Event: Induction ceremony for Tim Wallach, Dave Van Horne, Murray Cook and Jim Ridley. Ridley will be inducted posthumously. The ceremony will be emceed by Canadian broadcasting legend Rod Black. Critically acclaimed singer and actor Michael Burgess will sing the national anthem.
Time: 1 p.m.
Location: Hall of Fame grounds, 386 Church Street
Cost: Free.
Celebrities will be signing autographs at 3:30 p.m. The cost is $10 per person, per trip through the autograph line. The Hall of Fame will be running a barbecue, museum tours and a silent auction on site. Baseball games will also be played on the diamonds.
Saturday, June 21
Event: Intercounty Baseball League game: Barrie Baycats vs. Hamilton Cardinals
Time: 2 p.m.
Location: St. Marys Cement Plant Field, Hall of Fame grounds, 386 Church Street
Cost: Free.
Saturday and Sunday, June 21 and 22
Event: Toronto Blue Jays Honda Super Camp for kids (ages 9 to 16)
Time: Saturday – 3 p.m. to 7 p.m.; Sunday – 9 a.m. to 1 p.m.
Location: Hall of Fame grounds, 386 Church Street
Cost: See website (below) for details. Must pre-register at https://web-secure.mlb.com/campaign/gfi/?dir=tor_honda_super_camps&c_id=tor&camp=St.%20Marys
Each participant will receive eight hours of instruction, a Blue Jays t-shirt, a Blue Jays hat, a baseball manual, autographs and a Roberto Alomar 12" baseball glove. Blue Jays alumni Duane Ward, George Bell and Devon White will provide instruction at the camps.