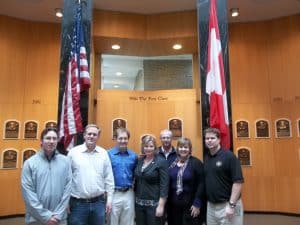 By: Kevin Glew
On Friday, I was fortunate to be part of a small group of Canadian Baseball Hall of Fame representatives that was treated to a behind-the-scenes tour of the National Baseball Hall of Fame in Cooperstown.
Seven of us – including the Hall's director of operations Scott Crawford, board members Harry Gundy, Charlie Hammond, Tammy Adkin and Phil Parkinson and St. Marys councillor Lynn Hainer – made the trek to the hallowed baseball shrine in upstate New York.
The Canadian Baseball Hall of Fame is fundraising to build a new museum in St. Marys (For more information, visit www.baseballhalloffame.ca) and Phil Parkinson organized this trip to establish a relationship with the American museum and to tap into their wisdom and expertise on museum and artifact management.
Read more HERE.