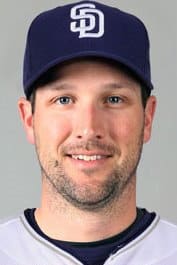 Meet World Baseball Classic hero and Major League Baseball catcher from Dorchester, Ont., Chris Robinson
The first-ever Canadian Baseball Hall of Fame night will take place on Friday, November 29 at the St. Marys Lincolns game, when the hometown squad battles the LaSalle Vipers at the Pyramid Centre.
The Hall invites you to come out and join in the fun, learn about our Hometown Membership Drive and meet San Diego Padres catcher Chris Robinson.
Drafted in the third round by the Detroit Tigers in 2005, Chris played 634 minor league games before being called up by the San Diego Padres and making his big league debut on September 4. His first big league hit was a home run on September 25. Chris has also played for Team Canada 11 times over the past 12 years – including competing for his country in the 2006 World Baseball Classic, 2007 World Baseball Cup, 2008 Olympics, 2009 World Cup, 2011 Pan-Am Games and 2013 World Baseball Classic.
Chris will drop the ceremonial first puck prior to the game and will be available for autographs and photos at the Hall of Fame table during the contest. While visiting the Hall of Fame table, you can also check out one-of-a-kind artifacts from the museum, learn about our exciting plans for the future and sign up for our Hometown Membership.
During the first intermission, we will be holding a "Shoot a ball" competition for an autographed Toronto Blue Jays and 2005 Hall of Famer Dave Stieb baseball. So don't forget to fill out a ballot for your chance to win.
SUBWAY has partnered with the Hall of Fame to create our Hometown Membership Drive. If you purchase a Hometown Membership, one of the many things you will receive is a SUBWAY gift card good for a FREE six inch sub at the St. Marys SUBWAY restaurant.