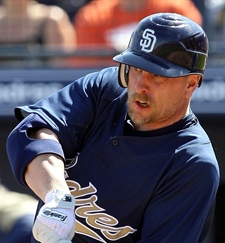 By Greg Rosenstein / MLB.com
WASHINGTON — Matt Stairs' home run in the Padres' 7-6 loss to the Nationals on Wednesday night tied the all-time record for career pinch-hit blasts.
Stairs' 20th pinch-hit home run matched Cliff Johnson, who played for seven Major League teams between 1972 and '85. Stairs entered the game for relief pitcher Joe Thatcher in the top of the ninth inning. With one out, he took the first pitch from Matt Capps and drilled it over the left-field wall to bring the Padres to within one run. Read more HERE.