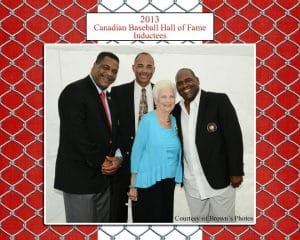 On Saturday, October 12 the Canadian Baseball Hall of Fame's 16th season in St. Marys will close. It has been an amazing year and we will reopen on Saturday, May 3, 2014.
Highlights from 2013 include:
Induction weekend events with the 2013 Inductees George Bell, Tim Raines, Rob Ducey, plus the families of Tom Cheek and Nat Bailey (celebrity game, breakfast, golf tournament, induction ceremony)
Kids on Deck summer camp – all the kids received their JP bobblehead
Toronto Blue Jays clinic
Aquafina Pitch Hit Run skills contest
Construction of the 4th field
Tip O'Neill presentation to Joey Votto
Jack Graney presentation to Jerry Howarth
Plus the over 450 events on the site that kept the Hall of Fame jumping all season long.
Thank you to everyone who visited the Hall of Fame this year. If you want to visit us in the winter please call 519-284-1838 or email baseball@baseballhalloffame.ca to book a tour.