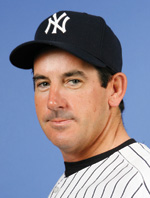 Joey Votto (Toronto, ON) , Jesse Crain (Toronto) and Rob Thomson (Corunna, ON) are the three active Canadians in the MLB playoffs. Votto plays 1st for the Reds, Crain pitches out of the bullpen for the Twins and Thomson coaches 1st base for the Yankees.
Let's hope they have a long playoff run!
Other Canadians not on the active rosters are Justin Morneau (New Westminster, B.C) for the Twins and Rich Harden (Victoria, B.C.) for the Rangers.