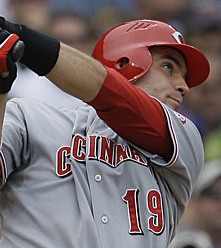 Joey Votto (Etobicoke, ON) is having a season to remember and just might finish it off with a World Series ring and the NL MVP trophy!
He is the All-time Canadian 1st baseman leader in R (100), HR (35), BB (85) and one SB (15) away from tieing a 123 yr old stolen base record of 16 set by Bill Phillips in 1887.
Canadian single season stats:
4th different player to hit 35 HR's or more
6th different player to collect 300 or more TB's
11th different player to score 100 runs or more
12th different player to collect 100 RBI's or more
AND all this with 11 games to go in the 2010 season!
Plus he was on the cover of Sports Illustrated and was a 2010 All-Star