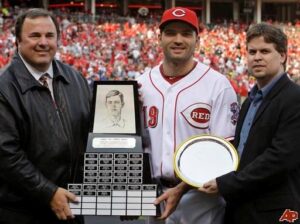 CINCINNATI — The right side of the Reds' infield received recognition on Tuesday for its solid year of defense.
Second baseman Brandon Phillips and first baseman Joey Votto both won National League Gold Gloves. The awards were announced by Rawlings, with the voting being done by the league's managers and coaches.
For Phillips, it's his third Gold Glove in the last four years, and second in a row. Votto is a first-time winner.
Read more HERE.
Votto becomes just the 3rd Canadian to win a Gold Glove award behind Larry Walker (1992, 93, 97, 98, 99, 01 and 02) and Russell Martin in 2007.