Bay, Dempster, Thomson and Ash to be inducted into Canadian Baseball Hall of Fame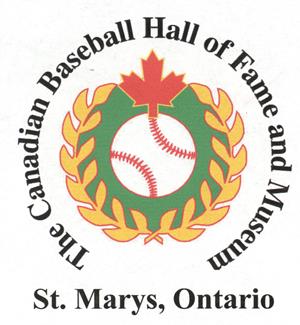 St. Marys, Ont. – The four members of the Canadian Baseball Hall of Fame's 2019 induction class own a combined eight World Series rings, five all-star selections and four Tip O'Neill awards, and together would've formed a strong foundation for a professional baseball team.
Former slugger Jason Bay (Trail, B.C.), versatile ex-pitcher Ryan Dempster (Sechelt, B.C.), esteemed coach Rob Thomson (Sarnia, Ont.) and long-time executive Gord Ash (Toronto, Ont.) will be inducted into the Canadian ball shrine in a ceremony to take place on June 15 at the Hall of Fame grounds in St. Marys, Ont.
"Each of this year's inductees is a proud Canadian that has had a tremendous impact on baseball in this country," said Scott Crawford, the Canadian Baseball Hall of Fame's director of operations. "Jason Bay and Ryan Dempster were major league all-stars and are two of the most successful Canadian players of all-time, while Rob Thomson and Gord Ash have seven World Series rings between them and are highly respected in the professional baseball community."
Inductee Bios
Jason Bay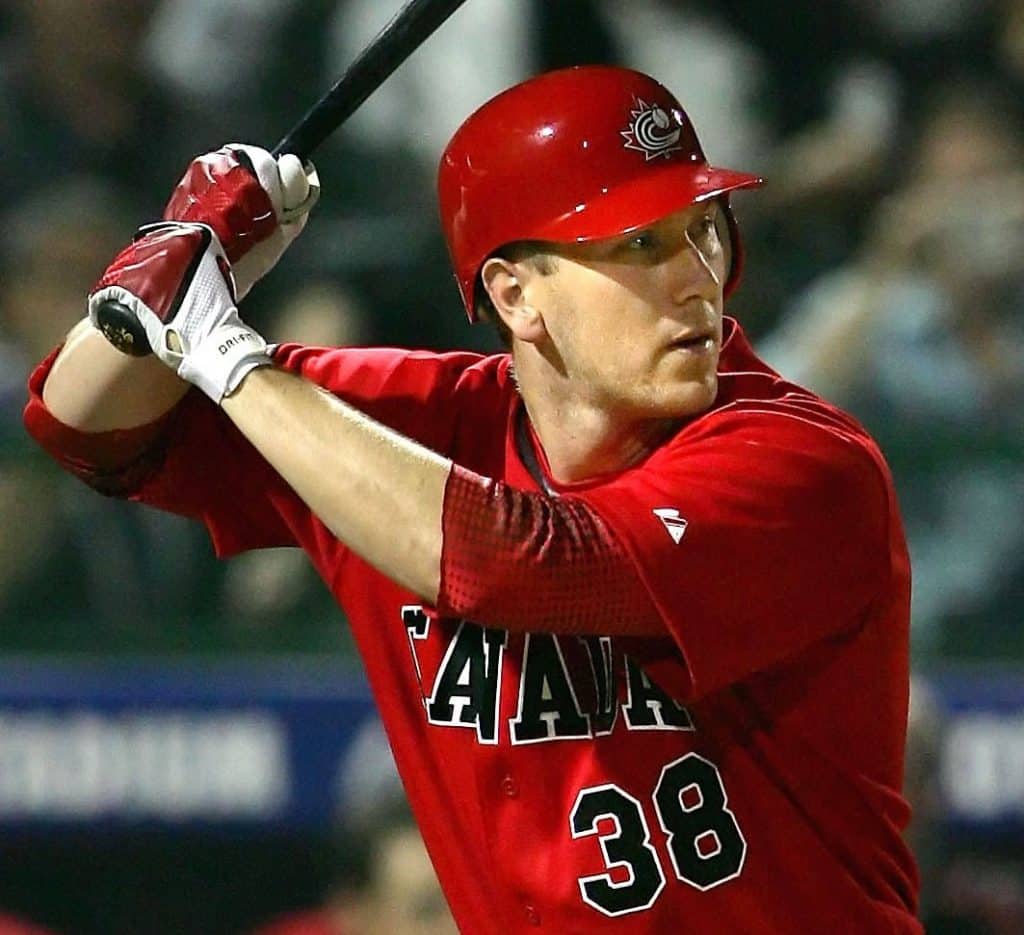 Born in Trail, B.C. in 1978, Jason Bay played for his hometown squad in the 1990 Little League World Series. A standout athlete in high school, the right-handed hitting outfielder graduated to play two years at Gonzaga University where he earned first-team All-West Coast Conference honours in his junior and senior seasons. His strong collegiate performance convinced the Montreal Expos to select him in the 22nd round of the 2000 MLB draft.
Following two seasons in the Expos organization, he was dealt to the New York Mets and then to the San Diego Padres in just over a four-month span in 2002. After making his big league debut with the Padres in 2003, Bay was traded to the Pittsburgh Pirates, and it was in Steeltown that he'd become a star. He assumed starting left field duties for the club on May 7, 2004 and never looked back, hitting .282 and belting 26 home runs in 120 games that season to become the first – and still only – Canadian to win the National League Rookie of the Year Award.
Bay continued to excel for the Pirates over the next four seasons, registering back-to-back 30-home run, 100-RBI campaigns in 2005 and 2006 and earning all-star honours in each of those years. But his game was more than just power, the athletic Canadian swiped 21 bases in 22 attempts in 2005 to lead the National League in stolen base percentage (95.46%). He was also a solid defender, twice finishing second among NL left-fielders in assists (2006, 2007).
After socking 22 home runs in 106 contests to begin the 2008 campaign, he was dealt to the Boston Red Sox at the July 31 trade deadline. In Beantown, he continued to be a power threat, socking nine home runs down the stretch to help the Red Sox to a playoff berth. In the American League Division Series against the Los Angeles Angels, he batted a team-best .412 (7-for-17) to help his club advance to the American League Championship Series. Bay returned to Fenway the next season to club a career-best 36 home runs and register 119 RBI. In the field, he topped AL left fielders in assists (15) and posted a perfect 1.000 fielding percentage. For his efforts, he earned his third all-star nod, a Silver Slugger Award and a seventh-place finish in the MVP voting.
Following that season, he signed a four-year deal with the New York Mets and he would finish his 11-year major league career with the Seattle Mariners in 2013.
Bay ranks in the top 10 in most of the all-time offensive statistical categories among Canadian major leaguers, including fifth in home runs (222), sixth in slugging percentage (.481), on-base plus slugging percentage (OPS) (.841), walks (636) and seventh in doubles (240) and RBI (754). His 1,200 hits also make him one of only 13 Canadians to record 1,000 or more hits in the majors.
Over the course of his career, Bay was named the winner of the Canadian Baseball Hall of Fame's Tip O'Neill Award, as top Canadian player, three times (2004, 2005, 2009) and suited up for the Canadian national team at the 2006 and 2009 World Baseball Classics, He was added to Baseball Canada's Wall of Excellence in 2014.
"It was a very pleasant and somewhat unexpected surprise to get that call from the Canadian Hall of Fame," said Bay. "I'm proud and honoured to be recognized with great people who have helped build baseball in Canada in various ways, to the elite level it has become. I'm looking forward to it!"
Ryan Dempster
Born in 1977 in Sechelt, B.C., Ryan Dempster grew up in nearby Gibsons, B.C. The right-hander honed his skills in the North Shore Twins program before pitching for the Canadian Junior National Team in two World Youth Championship tournaments in 1993 and 1994.
His strong arm convinced the Texas Rangers to select him in the third round of the 1995 MLB draft, but after just over 14 months in the Rangers organization, he was dealt to the Florida Marlins in June 1996 as part of a package for right-hander John Burkett.
It was in Miami where his big league career would take off. Following parts of two seasons in the Marlins' minor league system, he made his major league debut on May 23, 1998 and proceeded to toe the rubber for parts of five seasons with the Marlins. In 2000, he posted a 14-10 record and a 3.66 ERA in 226-1/3 innings in 33 starts and was selected to the National League All-Star team and named the Canadian Baseball Hall of Fame's Tip O'Neill Award winner. He collected 15 more wins the ensuing campaign before he was dealt to the Cincinnati Reds on July 11, 2002. He'd spend parts of two seasons with the Reds before he was signed by the Chicago Cubs in January 2004.
He'd enjoy his greatest big league success during his nine-year tenure with the Cubs. In his first four seasons at Wrigley, Dempster was employed as a reliever and from 2005 to 2007 he registered 33, 24 and 28 saves respectively. The Cubs converted him into a starter in 2008 and he rewarded them by delivering his best major league season, going 17-6 with a 2.96 ERA in 206-2/3 inning in 33 starts. For his efforts, he was named to his second National League All-Star team and finished sixth in the NL Cy Young voting.
He followed that up with three more campaigns in which he logged at least 200 innings for the Cubs before he was dealt back to the Rangers at the 2012 trade deadline. He capped off his major league career by winning a World Series ring with the Red Sox in 2013.
Dempster finished his 16-year major league career near the top of most all-time Canadian pitching categories, including second in wins (132), strikeouts (2,075), starts (351) and innings pitched (2,387). He also ranks fourth in games (579), saves (87) and WAR (22.5).
On top of his tenure with the Junior National Team, Dempster also toed the rubber for Canada at the 2017 World Baseball Classic. His name was added to Baseball Canada's Wall of Excellence in 2013.
Dempster is currently an analyst with the MLB Network and an assistant to Cubs' president Theo Epstein. During his career, Dempster was known for his charitable endeavors, particularly for raising awareness for 22q11.2 Deletion Syndrome (DiGeorge Syndrome) that his daughter, Riley, suffers from. He formed The Dempster Family Foundation to improve the quality of life for the growing community of those affected by this syndrome.
"It's always nice when your contributions to the game of baseball are appreciated. But when I got the call from the Canadian Baseball Hall of Fame about my induction I was truly humbled! I am proud and honoured to be joining so many great baseball people in the Hall this summer in St Marys."
Rob Thomson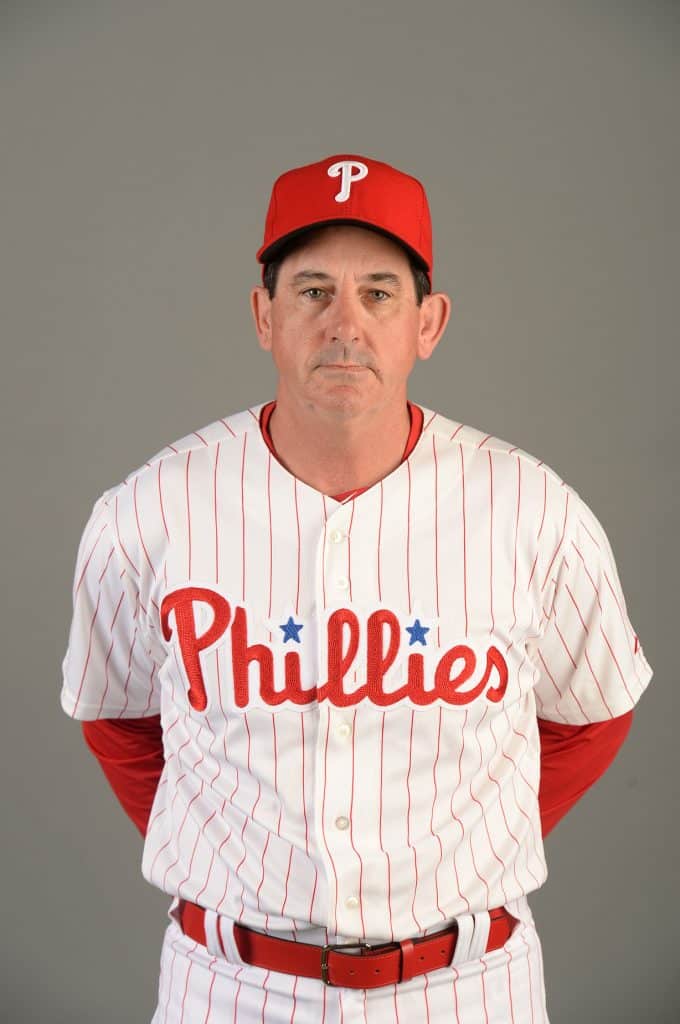 Born in 1963 in Sarnia, Ont., Rob Thomson grew up in nearby Corunna. A standout player for the Intercounty League's Stratford Hillers in the early '80s, Thomson was recruited by Dick Groch, later a famous New York Yankees scout, to play for St. Clair Community College. The young Canadian suited up there for one year before transferring to the University of Kansas.
In 1984, Thomson was part of the Canadian squad that competed in the 1984 Summer Olympics in Los Angeles when baseball was a demonstration sport. The following year, he was selected by the Detroit Tigers in the 32nd round of MLB draft.
The Canuck catcher/third baseman would advance as high as the class-A level before shifting his focus to coaching in 1988. He served as a minor league coach in the Tigers system for two seasons before joining the New York Yankees in 1990. Over the next 28 seasons, the hard-working Canadian evolved into one of the most respected coaches in the professional ranks. After serving in several capacities in the Bombers' organization, including minor league coach, manager, field coordinator and director of player development, he joined the Yankees' big league staff as a special assignment instructor in 2004.
Four years later, he was hired as Yankees bench coach and that season, he managed three games in Joe Girardi's absence to become the first Canadian to manage a major league contest since George Gibson with the Pittsburgh Pirates in 1934. From 2009 to 2014, Thomson was the Yankees' third base coach, and he played an important role on the Bombers' 2009 World-Series-winning club. He returned to the bench coach role in 2015 and worked in that capacity through 2017. Thomson had also organized spring training for the Yankees since 1998 and secured five World Series rings during his lengthy tenure with the franchise.
In December 2017, Thomson was hired by the Philadelphia Phillies to be their bench coach and he is now in his second season in that role.
"I am humbled and honoured to be inducted into Canada's Baseball Hall of Fame!" said Thomson. "Growing up in Corunna Ontario, I would have never dreamt that such an honour would be bestowed onto me. Congratulations to Gord, Ryan and Jason! My Canadian pride will be shining at its brightest as I get inducted on the same day with three fellow Canadians who have achieved so many fantastic things in our great sport. I look forward to June 15th to not only share the day with Gord, Ryan and Jason but also with my family and many people that have touched my life and continue to do so!"
Gord Ash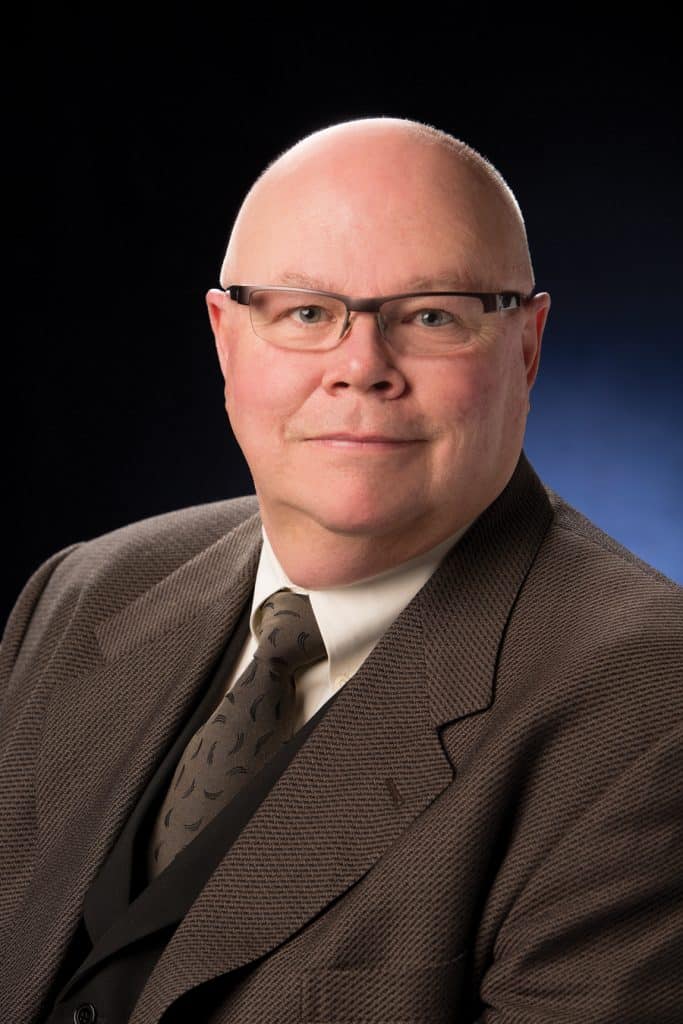 Born in 1951 in Toronto, Ont., Gord Ash began his career with the Toronto Blue Jays working in the ticket office in 1978. He would serve in several positions as he rose through the organization's ranks, including assistant director of operations from 1980 to 1983 and player personnel administrator from 1984 to 1988, before he was promoted to assistant general manager in 1989.
In his five years as assistant GM with the club, Ash performed much of the behind-the-scenes work on player contracts, including working on those for key free agent signings like Dave Winfield, Jack Morris, Paul Molitor and Dave Stewart who helped the club secure back-to-back World Series titles in 1992 and 1993. When legendary Blue Jays general manager and Canadian Baseball Hall of Famer Pat Gillick departed following the 1994 season, Ash was named his successor, which made him just the fourth Canadian to be a GM in the major leagues.
During Ash's seven-year reign as general manager, the Blue Jays drafted future stars Roy Halladay (1995), Vernon Wells (1997), Michael Young (1997), Orlando Hudson (1997) and Alex Rios (1999). His finest season as GM came in 1998 when the team finished 88-74 and if the current post-season format had been in place, the club would've claimed the second wild-card spot in the American League.
After he was relieved of his duties as GM for the Blue Jays following the 2001 season, Ash worked as a baseball analyst for TSN before he was hired to be the assistant general manager of the Milwaukee Brewers under fellow Canadian Baseball Hall of Famer Doug Melvin (Chatham, Ont.). Ash served in that role for 12 seasons and helped build the roster of the 2008 Brewers that advanced to the post-season, ending the club's 26-year playoff drought. He also assisted in constructing the 2011 Brewers club that finished with a franchise record 96 wins and won the National League Central Division title. Since 2015, Ash has worked as the vice-president of Baseball Projects for the Brewers.
In all, Ash has spent more than 40 years in professional baseball. During that time, he has also served as a respected voice on several important MLB committees, including those that have helped shape the collective bargaining process and minor league facility standards. He is one of just six Canadians to serve as a big league general manager. The others are George Selkirk (Huntsville, Ont.), Murray Cook (Sackville, N.B.), Doug Melvin (Chatham, Ont.), Alex Anthopoulos (Montreal, Que.) and Farhan Zaidi (Sudbury, Ont.).
Ash is involved with the Special Olympics Canada Foundation and donates annually to various charities in Ontario and Wisconsin.
"I am a lucky man!" said Ash after being told he was being inducted. "When Scott Crawford called to let me know I had been selected for induction into the Canadian Baseball Hall of Fame I was overwhelmed with emotion. So many baseball memories flashed vividly through my mind, including the people I have met and worked with, the places the game has taken me and the experiences I have had the good fortune to enjoy all came back to life. Baseball was not a career for me but for parts of five decades and over 40 years and it was rather a way of life and I enjoyed every minute. I am humbled and honoured with this opportunity to be included with a group of legends of baseball in Canada and I look forward to induction weekend. Special thanks to the selection committee and congratulations to the other 2019 inductees."
______________________________________________________________________________
Bay, Dempster, Thomson et Ash intronisés au Temple de la renommée du baseball canadien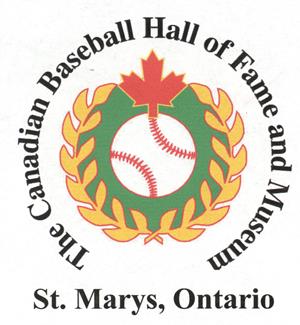 St-Marys, Ontario – Les quatre intronisés du Temple de la renommée du baseball canadien en 2019 ont un total de neuf bagues de la Série mondiale, cinq sélections au match des étoiles, quatre prix Tip O'Neill et auraient composé une excellente base pour une équipe de baseball professionnelle.
L'ancien voltigeur Jason Bay (Trail, C.-B.), l'ancien lanceur Ryan Dempster (Sechelt, C.-B.), le respecté entraîneur Rob Thomson (Sarnia, ON) et l'administrateur de longue date Gord Ash (Toronto, ON) seront intronisés au Temple du baseball canadien au cours d'une cérémonie qui aura lieu le 15 juin 2019 sur le site même du panthéon à St-Marys, en Ontario.
"Chacun des intronisés de cette année est un fier canadien qui a eu un impact important sur le baseball au pays, a dit Scott Crawford, le directeur des opérations du Temple de la renommée et musée du baseball canadien. Jason Bay et Ryan Dempster ont été des joueurs étoiles dans le baseball majeur en plus d'être deux des plus prolifiques joueurs de tous les temps venant d'ici alors que Rob Thomson et Gord Ash ont participé à un total de sept conquêtes de la Série mondiale et sont très respectés dans le monde du baseball."
Biographies des intronisés
Jason Bay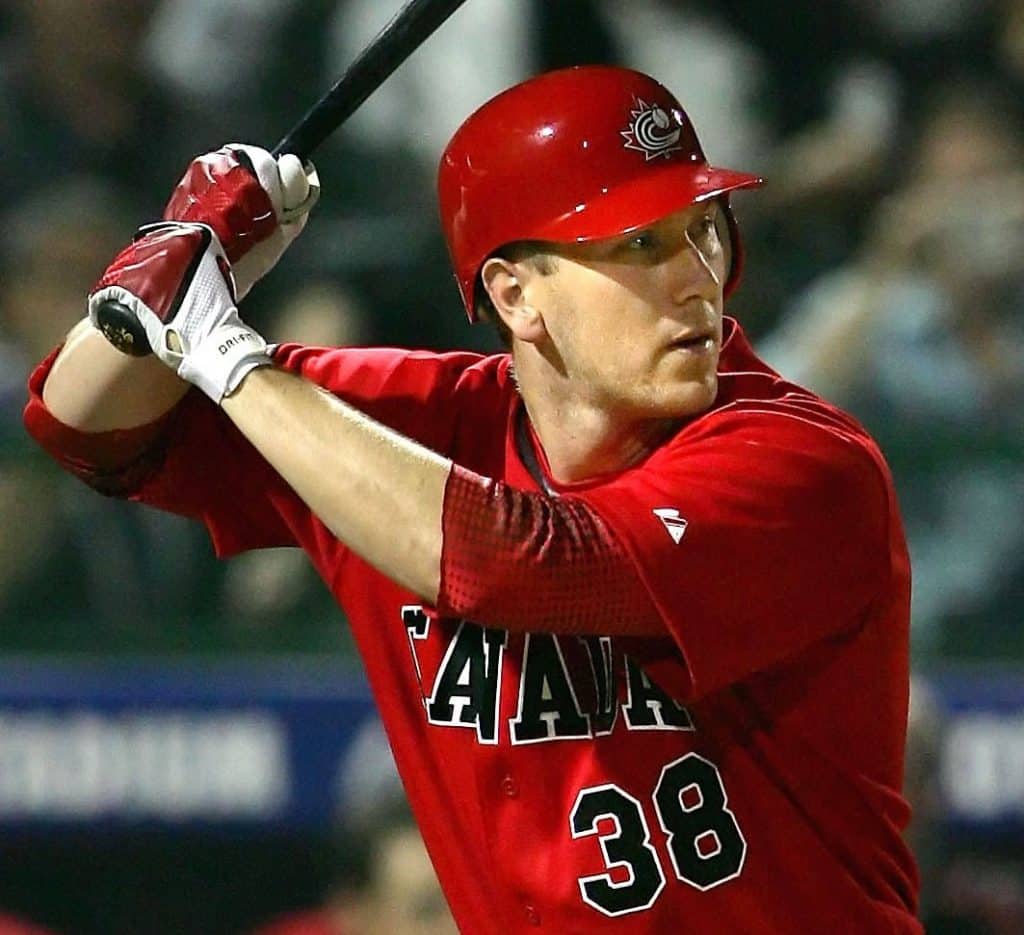 Né à Trail, en Colombie-Britannique en 1978, Jason Bay a joué pour l'équipe de sa ville natale lors de la Petite série mondiale de 1990. Un athlète de premier plan à l'école secondaire, le frappeur droitier a joué deux saisons avec l'Université Gonzaga où il a été nommé sur la première équipe d'étoile de la conférence de la Côte ouest lors des deux campagnes. Ses performances ont convaincu les Expos de Montréal de le repêcher en 22e ronde lors de la séance de l'an 2000.
Après deux saisons dans l'organisation montréalaise, il a été échangé aux Mets de New York et ensuite aux Padres de San Diego en l'espace de quatre mois, en 2002. Après avoir fait ses débuts dans les grandes ligues avec les Padres en 2003, Bay a été échangé aux Pirates de Pittsburgh. C'est dans la ville de l'acier qu'il est devenu une vedette. Il a été le voltigeur de gauche partant de la formation à partir du 7 mai 2004 et a ensuite toujours été un régulier, maintenant une moyenne au bâton de ,282, frappant 26 circuits et produisant 120 points à sa première saison complète. Ces statistiques lui ont permis de devenir le premier Canadien, et toujours le seul jusqu'à maintenant, à être nommé la recrue de l'année dans la Ligue nationale.
Bay a excellé avec les Pirates au cours des quatre saisons suivantes, cognant au moins 30 circuits et produisant au moins 100 points au cours de deux saisons consécutives (2005 et 2006) et étant invité au match des étoiles au cours de ces deux campagnes productives. En plus de sa puissance, Bay était un voleur de buts, réussissant 21 larcins en 22 tentatives en 2005, pour un total d'efficacité de 95,46 %, le plus haut pourcentage de la Ligue nationale cette année-là et un joueur défensif efficace et fiable, terminant deux fois en deuxième position dans la Nationale pour les assistances réussies par un voltigeur de gauche (2006 et 2007).
Après avoir réussi 22 circuits en 106 matchs pour débuter la saison 2008, Bay a été échangé aux Red Sox de Boston à la date limite des échanges, le 31 juillet. Avec sa nouvelle équipe, son appui offensif s'est poursuivi, frappant neuf circuits de plus dans la course au championnat remportée par les Sox. Dans la série de division de la Ligue américaine contre les Angels de Los Angeles, il a récolté la plus
haute moyenne de son équipe (,417 ou 7-en-17), les aidant à se rendre à la série de championnat. Bay est retourné à Boston l'année suivante, frappant son plus haut total de circuit en carrière (36) et produisant 119 points. Au champ extérieur, il a récolté 15 assistances, le plus haut total de la Ligue, et n'a commis aucune erreur. Avec toutes ces statistiques, il a été invité au match des étoiles, a reçu un bâton d'argent et a terminé septième dans la course au joueur par excellence.
Après cette saison, il a signé un contrat de quatre ans avec les Mets de New York et terminera sa carrière de onze saisons avec les Mariners de Seattle en 2013.
On retrouve Bay parmi les dix meilleurs canadiens dans la plupart des catégories offensives, dont en cinquième place pour les circuits (222), sixième dans la moyenne de puissance (,481), sixième pour la moyenne de présence plus la puissance (OPS, ,841), sixième pour les buts sur balles (636) et septième pour les doubles (240) et les points produits (754). Ses 1200 coups sûrs font de lui l'un des 13 Canadiens à avoir au moins 1000 coups sûrs dans les Majeures.
Au cours de sa carrière, Bay a été le récipiendaire du trophée Tip O'Neill, remis au meilleur baseballeur Canadien de l'année pour le Temple de la renommée du baseball canadien, à trois reprises (2004, 2005 et 2009), et a porté les couleurs du Canada lors de deux Classiques mondiales (2006 et 2009). Baseball Canada l'a accueilli sur son mur d'excellence en 2014.
"C'est vraiment plaisant et plutôt surprenant de recevoir cet appel du Temple de la renommée du baseball canadien, a dit Bay. Je suis fier et honoré de recevoir cette reconnaissance en compagnie de gens qui ont aidé à construire le baseball au Canada de plusieurs façons, jusqu'au niveau d'excellence que nous connaissons maintenant. J'ai hâte à cette journée!"
Ryan Dempster
Né en 1977 à Sechelt en Colombie-Britannique, Ryan Dempster a grandi près de Gibsons (C.-B.). Le lanceur droitier a développé ses habiletés avec les Twins de North Shore avant de défendre les couleurs du Canada lors de deux Coupes du monde junior, en 1993 et 1994.
Son bras puissant a convaincu les Rangers du Texas de le sélectionner en troisième ronde du repêchage de 1995 mais l'ont échangé 14 mois plus tard, en juin 1996, aux Marlins de la Floride dans une transaction envoyant John Burkett au Texas.
C'est à Miami que sa carrière dans les Majeures a véritablement pris son envol, après environ deux ans dans les rangs mineurs. Il a fait ses débuts le 23 mai 1998 et a été lanceur pour les Marlins pendant cinq ans. En 2000, il a terminé la campagne avec une fiche de 14-10 et une moyenne de points mérités de 3,66 en 226 manches et un tiers et 33 départs. Il a été invité au match des étoiles et a reçu le prix Tip O'Neill remis au meilleur joueur canadien de l'année par le Temple de la renommée et musée du baseball canadien. L'année suivante, il a gagné 15 matchs avant d'être échangé aux Reds de Cincinnati le 11 juillet 2002. Il a joint les rangs des Cubs de Chicago en janvier 2004.
Il a connu d'excellentes saisons dans la ville des vents, où il a joué pendant neuf campagnes. À ses quatre premières années avec les Cubs, il a principalement été utilisé comme releveur. De 2005 à 2007, il a respectivement réussi 33, 24 et 28 sauvetages. En 2008, les Cubs ont recommencé à lui faire confiance comme lanceur partant et il ne les a pas déçus alors qu'il devait connaître sa meilleure saison en carrière : 17 victoires contre 6 revers et une moyenne de points mérités de 2,96 en 206 manches et deux tiers et 33 départs. Des chiffres suffisamment convaincants pour l'envoyer au match des étoiles et le placer au sixième rang dans la course au Cy Young de la Ligue nationale.
Il a lancé plus de 200 manches au cours des trois suivantes avec que les Cubs ne l'envoie au Colorado à la date limite des transactions en 2012. Il a terminé sa carrière de joueur en remportant la Série mondiale de 2013 avec les Red Sox de Boston.
Dempster complète ainsi ses 16 saisons dans les Majeures dans le haut du classement des différentes colonnes de statistiques chez les lanceurs canadiens, dont deuxième pour les victoires (132), les retraits au bâton (2075), les départs (351) et les manches lancées (2387). Il est en quatrième place pour les matchs joués (579), les sauvetages (87) et la moyenne WAR (22,5).
En plus d'avoir joué avec l'équipe nationale junior, Dempster a aussi défendu les couleurs de son pays lors de la Classique mondiale de 2017. Baseball Canada a ajouté son nom au mur d'excellence en 2013.
Dempster est présentement un analyste pour le réseau MLB Network et assistant au président des Cubs Theo Epstein. Au cours de sa carrière, il a embrassé plusieurs causes dont celle du Syndrome DiGeorge (22q11.2 Deletion Syndrome), une maladie dont sa fille Riley est atteinte. Il a mis sur pied la Fondation de la famille Dempster qui vise à améliorer la qualité de vie des gens atteints de cette maladie.
"C'est toujours plaisant lorsque ta carrière est ainsi reconnue, a dit Dempster. Lorsque j'ai reçu l'appel du Temple, j'étais vraiment touché. Je suis fier et honoré de joindre autant de personnes importantes pour le baseball cet été à St-Marys."
Rob Thomson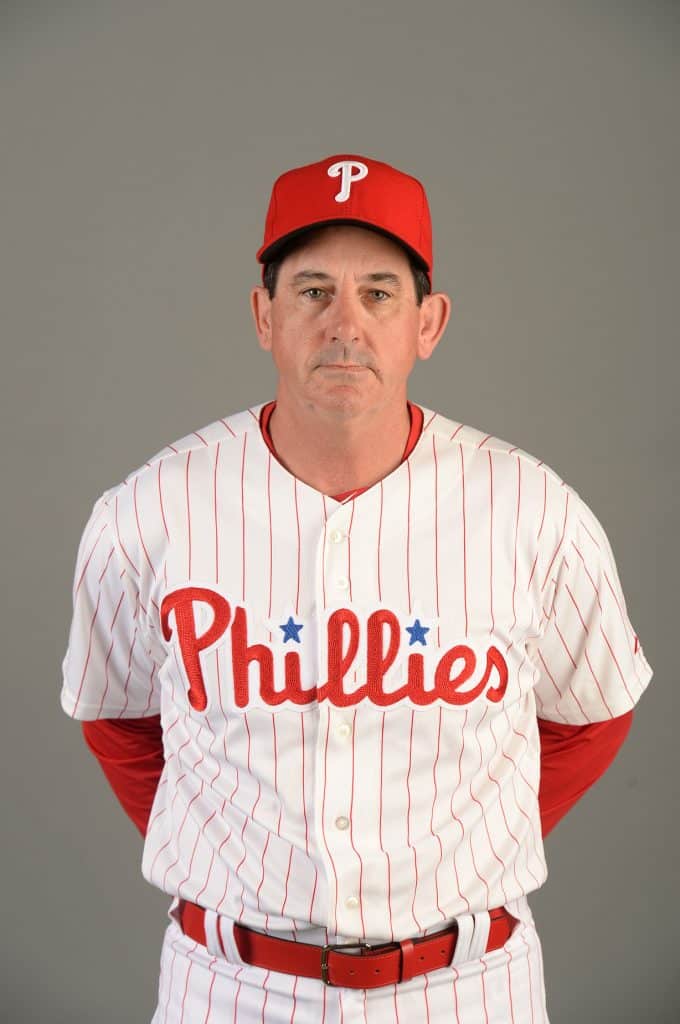 Né en 1963 à Sarnia en Ontario, Rob Thomson a grandi près de Corunna. Un joueur exceptionnel pour les Hillers de Stratford de la Ligue Intercounty au début des années 80, Thomson a été recruté par Dick Groch, qui deviendra plus tard un célèbre dépisteur chez les Yankees de New York, afin de jouer au Collège St-Clair. Le jeune canadien a joué une saison à cet endroit avant de déménager à l'Université du Kansas.
En 1984, Thomson portait les couleurs du Canada aux Jeux olympiques de Los Angeles, alors que le baseball était un sport de démonstration. L'année suivante, il était repêché par les Tigers de Détroit en 32e ronde.
Pouvant évoluer au poste de troisième but et de receveur, Thomson a joué jusqu'au niveau A avant d'orienter sa carrière vers le coaching en 1988. Il a été instructeur dans les rangs mineurs pour les Tigers pendant deux saisons avant de joindre les Yankees en 1990. Au cours des 28 saisons suivantes, ce travailleur acharné est devenu l'un des entraîneurs les plus respectés du sport professionnel. Il a occupé différents postes avec les Bombardiers du Bronx, soit comme instructeur dans les ligues mineures, gérant, coordonnateur ou directeur du développement des joueurs, Thomson s'est joint à l'équipe des Majeures comme instructeur spécial en 2004.
Quatre ans plus tard, il a été nommé l'instructeur sur le banc et a même dirigé la formation du Bronx à trois reprises pendant les absences de Joe Girardi. Il devenait ainsi le premier gérant canadien depuis George Gibson (Pirates de Pittsburgh) en 1934. De 2009 à 2014, Thomson dirigeait le trafic au troisième but et il a joué un rôle important dans la conquête de la Série mondiale en 2009. En 2015, et jusqu'en 2017, il est retourné à son poste d'instructeur sur le banc. Il a également vu à la préparation des camps d'entraînement depuis 1998 et a vu les Yankees gagner cinq Séries mondiales au cours de sa carrière avec l'équipe.
En décembre 2017, il a été engagé par les Phillies de Philadelphie comme instructeur sur le banc. Il occupe toujours ce poste.
"Je suis fier et honoré d'être intronisé au Temple de la renommée du baseball canadien, a dit Thomson. Ayant grandi à Corunna, Ontario, jamais je n'aurais rêvé qu'un tel honneur pouvait me revenir. Et félicitations à Gord, Ryan et Jason! Ma fierté canadienne sera à son plus haut niveau lorsque je serai intronisé en compagnie de mes trois compatriotes qui ont accompli tellement de choses remarquables dans notre si beau sport. J'ai hâte au 15 juin, non pas seulement pour partager cette journée avec eux, mais aussi ma famille et les gens qui ont grandi avec moi et qui continuent de le faire."
Gord Ash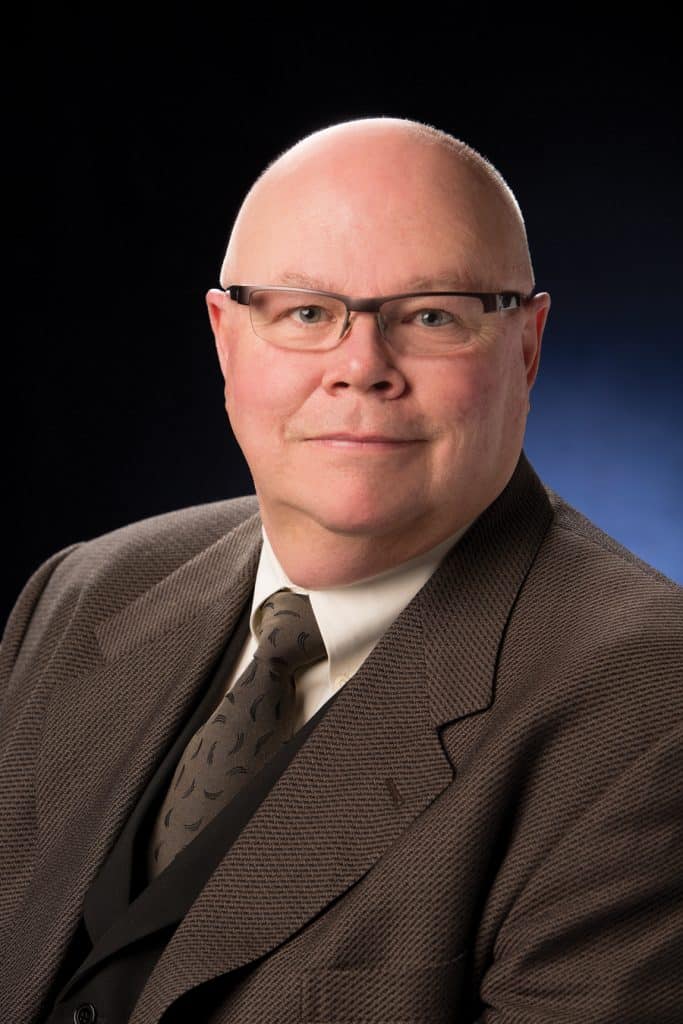 Né en 1951 à Toronto en Ontario, Gord Ash a débuté sa carrière avec les Blue Jays de Toronto à la billetterie en 1978. Il occupera plusieurs postes, grimpant les échelons un à un, passant d'assistant au directeur des opérations (1980 à 1983), administrateur (1984 à 1988) et finalement assistant au directeur gérant (1989 à 1994).
Pendant cinq ans à ce poste, Ash a négocié les contrats des joueurs, travaillant même sur les importantes signatures des agents libres Dave Winfield, Jack Morris, Paul Molitor et Dave Stewart, des joueurs qui allaient aider les Jays à gagner deux Séries mondiales consécutives (1992 et 1993). Lorsque Pat Gillick, intronisé au Temple de la renommée du baseball canadien, a quitté la formation après la saison 1994, c'est Ash qui a pris la relève. Il devenait ainsi seulement le quatrième Canadien à occuper pareil poste dans les Majeures.
Pendant les sept saisons comme directeur-gérant de la formation, Ash a repêché les futures vedettes Roy Halladay (1995), Vernon Wells (1997), Michael Young (1997), Orlando Hudson (1997) et Alex Rios (1999). En 1998, les Jays ont terminé la saison avec une fiche de 88 victoires et 74 défaites, le meilleur résultat pour une équipe bâtie par Ash. Si le format actuel des séries avait existé cette année-là, les Jays auraient participé aux séries comme équipe repêchée.
Les Jays l'ont remercié après la saison 2001 et Ash est devenu analyste au réseau TSN. Les Brewers de Milwaukee et son directeur-gérant, le Canadien Doug Melvin, intronisé au Temple de la renommée du baseball canadien, l'ont ensuite engagé comme assistant. Il a occupé ce poste pendant 12 ans et a aidé l'équipe de 2008 à participer aux séries après une absence de 26 ans et celle de 2011 à obtenir 96 victoires, un record de concession. Depuis 2015, il est le vice-président des projets baseball chez les Brewers.
Ash a donc passé plus de 40 ans dans le baseball professionnel. Pendant sa carrière, il a siégé sur d'importants comités des Ligues majeures, comme celui de la convention collective ou la création de standards pour les stades des ligues mineures. En compagnie de George Selkirk (Huntsville, ON), Murray Cook (Sackville, N.-B.), Doug Melvin (Chatham, ON), Alex Anthopoulos (Montréal, QC) et Farhan Zaidi (Sudbury, ON), il est l'un des six Canadiens à avoir été directeur-gérant pour une équipe des Majeures.
Il est également impliqué au sein de la fondation des olympiques spéciaux du Canada et de plusieurs causes en Ontario et au Wisconsin.
"Je suis un homme choyé, a dit Ash lorsqu'il a appris sa nomination. Lorsque Scott Crawford m'a appelé pour m'informer de mon intronisation au Temple de la renommée du baseball canadien, j'ai été submergé par l'émotion. Plein de souvenirs me sont venus en tête, incluant les gens que j'ai rencontré et avec qui j'ai travaillé, les endroits où ce sport m'a amené et les expériences dont j'ai profité. Le baseball n'a pas été une carrière mais un mode de vie pendant cinq décennies et au-delà de 40 ans et j'ai apprécié chaque minute. Je suis fier et honoré d'avoir la chance d'être nommé en compagnie de ces trois légendes du baseball au Canada et j'ai hâte à la fin de semaine d'intronisation. Un merci spécial au comité de sélection et félicitations aux intronisés de 2019!"