Canadian Baseball Hall of Fame inductee Graney to be honoured posthumously with Ford C. Frick Award in Cooperstown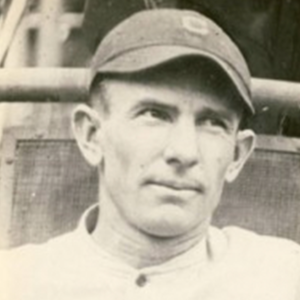 St. Thomas, Ont., native Jack Graney will be honoured posthumously with the National Baseball Hall of Fame's 2022 Ford C. Frick Award in a ceremony on July 23 in Cooperstown, N.Y.
The award, which is handed out annually for major contributions to broadcasting, will be presented as part of the Hall of Fame Awards Presentation.
With the honour, Graney becomes the first winner of the award to have been born in Canada.
The trailblazing Canadian broadcaster is the 46th winner of the award. He tallied the most points among the eight finalists on the Broadcasting Beginnings ballot in a vote conducted by the Hall's 16-member Frick Award Committee.
"We are thrilled that Jack Graney is being honoured with the National Baseball Hall of Fame's Ford C. Frick Award," said Jeremy Diamond, chair of the Canadian Baseball Hall of Fame's board of directors. "After his excellent playing career with Cleveland, he blazed a trail for ex-major leaguers when he became the first to make the transition to the broadcast booth. From 1932 to 1953, he was the voice of summer for Cleveland baseball fans and he established such a high standard that our annual award for media excellence is named in his honour.
"One of the best things about him was that despite his success in the United States, he never forgot his roots. He frequently returned to his hometown of St. Thomas, Ontario. He passed away in 1978, but we are happy that his granddaughter Perry Mudd Smith and her family will be able to celebrate this great honour."
Graney's granddaughter and her family are also planning to visit the Canadian Baseball Hall of Fame in St. Marys, Ont., on July 26, the Tuesday after the Cooperstown ceremony.
Graney's road to the big leagues began in St. Thomas, Ont., where he was discovered and recommended to the Chicago Cubs by fellow Canadian Baseball Hall of Famer Bob Emslie. After a season in the Cubs' organization, Graney was sold to Cleveland, where he would evolve into a steady, dependable outfielder.
His big league resume boasts a number of firsts. When Graney walked to the plate in a game against the Boston Red Sox on July 11, 1914, he became the first batter to face Babe Ruth. Almost two years later, on June 26, 1916, he would be the first major leaguer to bat wearing a number on his uniform. A scrappy leadoff hitter, Graney led the American League in walks twice (1917, 1919) and in doubles once (1916). The speedy Canuck also finished in the top 10 in triples in 1913 and 1916, with 12 and 14 three-baggers respectively. He was also a member of the World Series-winning Cleveland squad in 1920.
In all, he played in parts of 14 major league seasons and he ranks in the top 10 among Canadians in several all-time statistical categories, including fifth in walks (712) and stolen bases (148), sixth in triples (79) and seventh in games played (1,402).
After his playing career, Graney became the first ex-player to make the transition to the broadcast booth, performing radio play-by-play for Cleveland from 1932 to 1953. The St. Thomas, Ont., native called the World Series for a national audience in 1935 and also broadcast that year's All-Star Game in Cleveland.
Graney passed away on April 20, 1978. He was inducted into the Canadian Baseball Hall of Fame posthumously six years later. The Canadian ball shrine now presents an annual award named in his honour to a media member who has made a significant contribution to the game of baseball in Canada through their life's work.
Graney emerged the 2022 Ford C. Frick Award winner from a final ballot that featured broadcasters whose main contributions were realized as pioneers. The seven other finalists were Pat Flanagan, Waite Hoyt, France Laux, Rosey Rowswell, Hal Totten, Ty Tyson and Bert Wilson.
The 16-member Frick Award voting committee, was comprised of the 13 living Frick Award recipients and three broadcast historians/columnists.
The award is voted upon each year and is named in honour of Frick who, at various times, worked as a sportswriter, a radio broadcaster, the National League president and as baseball commissioner. He was inducted into the National Baseball Hall of Fame in 1970.
Though Graney is the first winner of the Frick Award to be born in Canada, legendary Montreal Expos broadcaster Dave Van Horne captured the honour in 2011 and iconic Toronto Blue Jays radio-by-play man Tom Cheek was the recipient in 2013.