Holiday Silent Auction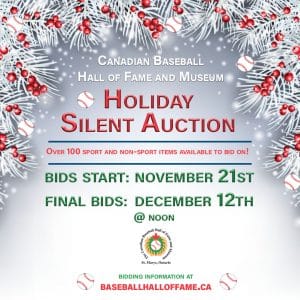 Our 19th annual Holiday Silent Auction has started and is a key fundraiser for the Canadian Baseball Hall of Fame. All proceeds from the auction will go towards archiving our vast collection, the programs we run and our 32 acre site.
100 items and almost $22,000 in items available to bid on so don't miss this great opportunity to bid on some unique sport and non-sport items.
Auction runs until December 12 at 12pm ET.
AGAIN THIS YEAR….all bidding done directly online at the link below. However, items will be at our museum and if you wish to see them in person and if you need any assistance with the auction please email baseball@baseballhalloffame.ca or call 519-284-1838.
***Extended bidding this year!***
The Extended Bidding feature automatically extends the end time of an item by 3 minutes when it receives a bid during the final 3 minutes. This allows bidders to relax during the end of an auction knowing they'll have time to enter a new bid if they're outbid in the final 3 minutes, making it easier to maintain their lead on one or more items.
Click here for auction link: https://www.32auctions.com/holidaysilentauction
Take a look at some of the items in our auction:
Jerseys signed by: Toronto Blue Jays and Montreal Expos players
Baseballs signed by: Hall of Famers Larry Walker, Pedro Martinez, Joe Carter, Tim Raines, Rob Thomson, plus Eric Gagne, plus Blue Jays such as George Springer, Bo Bichette; plus Expos such as the 1984 team, Charlie Lea; plus others like Ronald Acuna Jr. and many more….
Bats signed by: Vladimir Guerrero Jr, Pedro Martinez, Justin Morneau, plus our Canadian Cy Young bat signed by Fergie Jenkins and Eric Gagne and many other bats to choose from.
Cards signed by: Sparky Anderson, Larry Walker,
Bobbleheads: Over a dozen to bid on!
Tickets: Toronto Maple Leafs, Toronto Raptors, Toronto Blue Jays, Toronto Rock, River Valley Tube Slide
Experiences: Dinner with Hall of Famer Gord Ash, Tour of the Media Centre with Jays announcer Ben Wagner, Pitching lesson with former MLB player and Hall of Famer Jeff Francis
Gift certificates/baskets: Left Field Brewery, Boston Pizza, Subway, Flowers of the Month, McDonald Independent, Dunnys Source for Sports, Troyer's Spices, Graham Energy
Art: Sean Kane Baseball Art – limited editions, Babe Ruth limited edition homerun print, 2015 inductees canvass, John Olerud print
Other items include:
Gift packs: Roy Halladay; Pedro Martinez; Larry Walker, Hall of Fame, Minnesota Twins
National Baseball Hall of Fame lithograph
Exhibition Stadium seat-former home of the Blue Jays
Baseball Books
Jordan Romano hat
KR3 Bats
Funko Pops
Youppi
Signed Hockey puck
Museum passes
Watch
Blankets
Coins and cards
Clothing
Shelving