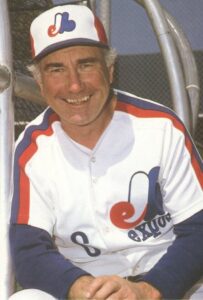 Hall of Famer Jim Fanning passes away on Saturday, April 25.
"Jim Fanning was a baseball pioneer in this country. Without his tireless efforts, there may not be Major League Baseball in Canada. He was a tremendous talent evaluator, an astute general manager and a smart field manager who led the Montreal Expos to their only playoff appearance in 1981. We were proud to induct him into our museum in 2000. But most importantly, Jim was a passionate teacher, a loving husband and father, and a wonderfully generous man. He was baseball royalty in Canada who visited our museum regularly. I speak for myself and the staff at the Canadian Baseball Hall of Fame when I say that we loved him. We will miss him deeply, but we will never forget him."
Scott Crawford, director of operations, Canadian Baseball Hall of Fame
Serving as a player, manager, executive and community ambassador, Jim Fanning has spent over 60 years in professional baseball. The Chicago Cubs signed him as a catcher in 1949 and he played 64 games over four seasons, before pursuing a managing career. After managerial stops in Tulsa, Dallas, Eau Claire and Greenville, fellow Canadian Baseball Hall of Famer, John McHale, hired him as a special assignment scout for the Milwaukee Braves in 1963. The following year Fanning was promoted to assistant general manager, a post he would hold until 1967.
Read more HERE.