50 MONTREAL MOMENTS OF PAIN FROM 50 YEARS AGO
By Al Doyle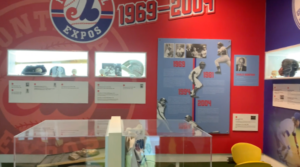 Setting any record in major league baseball requires tremendous effort.  In one instance, it also involved a bundle of bruises.
Expos second baseman Ron Hunt absorbed 50 hit by pitches in 1971. Hunt's painful season is far and away the 20th century record (Hughie Jennings is credited with 51 HBP in 1896) for getting to first base the hard way. Catching pitches in the ribs and elsewhere was a specialty for the hard-nosed Expo, as he led the majors in that department from 1968 to 1974.
What made 1971 special was how Hunt exceeded his own high standards in doing anything to get on base. Number 33 received 24 to 26 HBP from 1968 to 1970 and again in 1972 and 1973, which meant he doubled his usual pace a half century ago. It was a unique craft that Hunt put many hours into developing.
"I worked and practiced in full uniform in a mirror to make sure it was perfect," Hunt said in a 2000 Baseball Digest interview. "I'd stand right on top of the plate. An inside pitch had to be right on the corner, or it would hit me. The umpires never called me for getting hit on purpose."
A review of Hunt's 50 HBP shows no fear in crowding the plate against hard throwers. He took four Nolan Ryan fastballs and took a pair of hits from Bob Gibson along with being plunked by Jim Bunning and Don Wilson. Those weren't the first times the feisty Hunt was smacked by the ferociously competitive Gibson. Cubs reliever Bill Bonham nailed Hunt three times in just 11 1/3 innings pitched against Montreal. Thanks in part to Ryan, the Mets dealt pain to Hunt 11 times in just 18 games. The Pirates were the only team that failed to hit the human target.
No one was willing to step up to challenge Hunt in his quest for hit by pitch supremacy. Former teammate Willie McCovey said, "You can have that record if you want it." The Hall of Famer's remark could have come from anyone else in baseball.
Hunt was plunked seven times in the Expos' first 27 games before a 10-game "slump" that ended with a pair of HBP against the Braves on May 26, 1971. Back in his unique groove, Hunt was hit five times in the next 11 games. That run included a pair of drillings from Padres lefty Dave Roberts on June 6. It was one of six games where Hunt stopped a pair of pitches with his body.
A 15-game drought followed that performance, but don't think that Hunt's courage was fading. He took numbers 15 and 16 in back-to-back games with the Braves before scoring a hat trick in a doubleheader against the Mets on June 25. The first of those HBP came against Ryan. The pair of whacks from Mets lefty Danny Frisella in the second game must have felt benign by comparison. Jerry Koosman delivered HBP 20 the following day.
Hunt kept grinding out hit by pitches into July, including another collision with the Ryan Express on July 5. After a few days off, Hunt's path intersected with a Gibson heater on July 17. Number 30 came in the first game of a doubleheader against the Astros on July 30. The pace picked up in the last half of August, as the bravest Expo added eight HBP to his total. That streak included getting smacked twice on August 17 and 23. Hunt closed August with his 40th HBP against the Cubs.
Number 42 was Hunt's third 1971 encounter with Ryan's heat at Jarry Park on September 7, and the same thing happened a week later in New York. Canadian Baseball Hall of Famer Ron Taylor also hit Hunt in that game to run the total to 46.
There was no backing down from anyone, as Hunt got another high-velocity "kiss" from Gibson on September 17. How many other players have been hit by two legendary fireballers just three days apart? After being plunked by the Phillies on the 21st, Hunt remained unscathed until being hit by Bonham for the third time in just under a month on September 28.
Hunt reached the half century mark after being hit by Milt Pappas at Jarry Park on September 29. Pappas complained to umpire Ken Burkhardt that Hunt made no effort to avoid a pitch that was over the plate, but the call stood.
Ironically, Hunt played in a career-high 152 games during a season where he was 13 standard deviations above the major league average for HBP according to one statistician. Thanks to much inclement spring weather, the Expos played 17 doubleheaders. That included back-to-back twin bills on June 20 in Pittsburgh and June 21 in Atlanta. Manager Gene Mauch often used Gary Sutherland as a late-inning substitute to give Hunt a breather – or for recovery time after taking another bruising fastball.
What drove Hunt to repeatedly endure big league baseballs to his body? It wasn't as if his gutty approach was going to lead to a chance to play in the World Series. The third-year Expos were never expected to contend in 1971 and finished with a 71-90-1 record. Perhaps Hunt described it best when he said "Some people give their body to science. I give mine to baseball."
A .279 batting average (145 for 520) combined with 58 walks and the mountain of HBP gave Hunt a career-high .402 on-base percentage, good for fourth in the National League. He also had a 118 OPS+ in 1971, and Hunt's career 105 OBP+ is quite high for a singles hitter thanks in part to getting drilled 243 times over a 12-year big league journey.
The two-time All-Star was known for his intense, whatever it takes to win mentality. That included sometimes taunting opposing pitchers by casually tossing the ball back to the mound after getting drilled. Unlike 21st century hitters, Hunt had no body armour. The only concession he made was wearing a rubberized undershirt that offered minimal cushioning. It can be seen on Hunt's 1973 Topps card.
When unbreakable major league records are discussed, Cy Young's 511 career victories, Cal Ripken Jr.'s 2,632 consecutive games played and Joe DiMaggio's 56-game hitting streak get top billing. Ron Hunt's 50 hit by pitches in 1971 belongs somewhere on that list.