Holiday Season Sale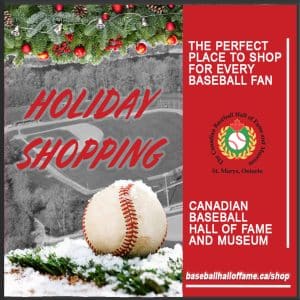 Everything in our store is 10% off the regular price. The sale starts today and continues until end of day on December 31!
Must enter coupon code in your cart to receive discount: cbhfmhs
Start shopping at: https://baseballhalloffame.ca/store/
Hit a Grand Slam with the baseball fan in your life!
Autographed items!
Over 100 baseballs including Larry Walker, Joe Carter, Dennis Martinez and Tom Henke
Over 50 inductee bats including Fergie Jenkins, Pat Gillick, Felipe Alou and Pat Hentgen
Over 50 inductee cards including Larry Walker, Carlos Delgado, Tim Raines and Fergie Jenkins
Books!
Over 20 different books to choose from on topics such as Roy Halladay and Matt Stairs, plus Blue Jays, Expos and the history of the MLB Draft.
Plus many different hats, clothing and small unique gifts to choose from.