Ceremonies slated prior to games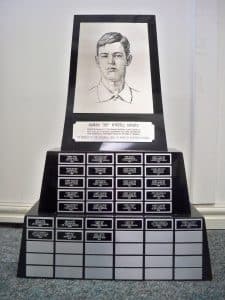 St. Marys – The Tip O'Neill Award will be awarded to the Milwaukee Brewers' ace closer John Axford from Port Dover, Ontario and the Cincinnati Reds slugging first baseman Joey Votto from Etobicoke, Ontario during the week of April 24th. The award will be presented to Axford and Votto in pre-game ceremonies in each of their home stadiums. Axford's award will be presented on Tuesday, April 24th in Milwaukee and Votto's award will be presented on Thursday, April 26th in Cincinnati.
The Tip O'Neill Award is presented annually by the Canadian Baseball Hall of Fame to the player judged to have excelled in individual achievement and team contribution while adhering to baseball's highest ideals.
Axford led the Milwaukee Brewers to the playoffs with a National League leading 46 saves. He was awarded the 2011 National League Rolaids Relief Man Award. The 6'5", 195-pounder's single season save total ranks third in Canadian history, trailing only Eric Gagné, who saved 55 games in 2003 and 52 in 2002. The hard-throwing right-hander compiled a 1.95 ERA with 86 strikeouts, 25 walks, and 59 hits over 73 innings. He converted 46 of 48 save opportunities. In six playoff appearances, Axford had a win, three saves, struck out nine in seven innings, and landed a 1.29 ERA.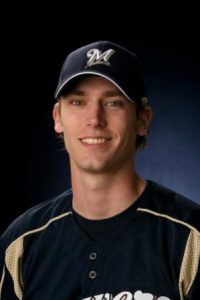 "This is sweet, really an honour!", exclaimed Axford from his home in Ancaster, Ontario.
"Anytime you want to put my name in the company of Joey Votto, and the likes of Justin (Morneau) and Larry (Walker) [all past Tip O'Neill Award winners], you just go right ahead!"
Votto was a National League All-Star and Gold Glove winner who finished sixth in MVP voting. The 2010 National League MVP and Lou Marsh Award winner batted .309 and had 29 home runs, 72 extra base hits, and a Canadian record 110 bases on balls. The Cincinnati Reds marquee player led the National League in batting average on the road (.334) as well as batting average with runners in scoring position (.383), and led all MLB first basemen in games (160) and innings played, total chances, putouts, assists and was second in double plays. The left-handed slugger had 185 hits including a National League-leading 40 doubles, 103 RBI, scored 101 runs, and stole eight bases. He also amassed a slugging percentage of .531, an on-base percentage of .416, and a .947 OPS (9th best in the National League).

"It's an honour to win a share of this award and be mentioned alongside such great Canadian baseball players as Larry Walker, Jason Bay, Justin Morneau, Eric Gagné, and John Axford," said Votto from his Florida home.
"John and I are very proud to represent the Reds, Brewers and our country as Major League Baseball players, and we appreciate the Canadian Baseball Hall of Fame's recognition of our contributions to the game both individually and as part of a team."
This is the third time in the award's history that it is being bestowed upon two recipients. The Canadian Baseball Hall of Fame's Director of Operations, Scott Crawford, states: "Based on the tremendous seasons both players had, it would have been unfair to choose one player over another. They both deserve the award for the excellence they displayed individually and for the significant contributions they both made to their respective teams. This is the correct result and I'm delighted to be presenting the award to two extremely deserving players."
The award is named after Woodstock, Ontario native James 'Tip' O'Neill, one of Major League baseball's first legitimate stars. With the St. Louis Browns in 1887, O'Neill amassed staggering statistics: .492 average, SLG-.691, Hits-225, Doubles-52, Triples-19, Homeruns-14, Total Bases-357, Runs-167 (4th all-time for a single season), RBI-123. The outfielder set major league records in hits, doubles, slugging percentage, and total bases that season while compiling his astounding .492 batting average. Bases on balls were included as hits in 1887, but if O'Neill's average was calculated by today's standard, it was .435, the second highest in major league history to Hugh Duffy (.438).

Past winners of the James "Tip" O'Neill Award:
1984-Terry Puhl
1985-Dave Shipanoff
1986-Rob Ducey
1987-Larry Walker
1988-Kevin Reimer
1989-Steve Wilson
1990-Larry Walker
1991-Daniel Brabant
1992-Larry Walker
1993-Rob Butler
1994-Larry Walker
1995-Larry Walker
1996-Jason Dickson
1997-Larry Walker
1998-Larry Walker
1999-Jeff Zimmerman
2000-Ryan Dempster
2001-Larry Walker (tie)
2001-Corey Koskie (tie)
2002-Larry Walker (tie)
2002-Eric Gagne (tie)
2003-Eric Gagne
2004-Jason Bay
2005-Jason Bay
2006-Justin Morneau
2007-Russell Martin
2008-Justin Morneau
2009-Jason Bay
2010-Joey Votto
2011-John Axford (tie)
2011-Joey Votto (tie)
Please Note: The Canadian Baseball Hall of Fame will induct Rusty Staub, Doug Melvin, Rheal Cormier and 2011 Team Canada National Senior Team on Saturday, June 23, 2012 on the Ceremonial Grounds in St. Marys, Ontario.
For more information please contact:
Temple de la renommée du baseball canadien et musée
P.O. Box 1838, 140 Queen St. E.
St. Marys, ON, Canada, N4X 1C2
Tel: 519-284-1838, Toll Free: 1-877-250-BALL
Scott Crawford's email: scott@baseballhalloffame.ca
Web: www.baseballhalloffame.ca