By Barry M. Bloom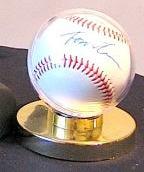 NASHVILLE, Tenn. — The Ford C. Frick Award is going back to Canada.
Tom Cheek, the late and beloved Toronto Blue Jays broadcaster, will be honored during the annual National Baseball Hall of Fame induction weekend ceremonies on July 27-28 in Cooperstown, N.Y.
Cheek, who called the first 4,306 regular-season games and 41 postseason games in Blue Jays history, will receive his award posthumously on July 27 during a ceremony at Doubleday Field, the Hall of Fame announced on Wednesday. He is survived by his wife, Shirley, who's expected to be in Cooperstown to accept the award.
Dave Van Horne, now the voice of the Miami Marlins, spent parts of four decades broadcasting Montreal Expos games before the team left Canada for Washington in 2005, and he won the prestigious award that recognizes a meritorious career in baseball broadcasting two years ago.
"Tom Cheek was the voice of summer for generations of baseball fans in Canada and beyond," Hall of Fame president Jeff Idelson said. "He helped a nation understand the elements of the game and swoon for the summer excitement that the expansion franchise brought a hockey-crazed nation starting in the late 1970s.
Lire la suite en cliquant ici.