Happy New Year from the Canadian Baseball Hall of Fame and Museum
The new year is just around the corner and the staff and volunteers here at the Canadian Baseball Hall of Fame and Museum are looking forward to a fresh start in 2022.
We plan to welcome you back for a full season inside the museum talking baseball and highlighting the key aspects of Canadian baseball history starting in May. We are hopeful this current wave of the pandemic subsides and we can again return to some normalcy. These are challenging times for everyone, and we hope you and your families stay safe.
Currently inside the museum our Curator Christi is combing through the archive boxes for the next treasures to be found and busily uploading hundreds of artifacts to our online museum. Check back several times a year for our new virtual online displays as the topic and artifacts are filled with wonderful stories.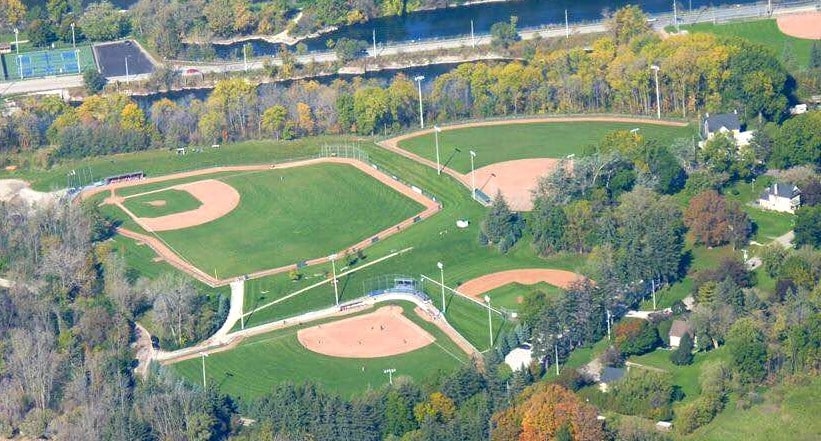 Our four fabulous diamonds on Canada's Field of Dreams are sleeping under a layer of snow just waiting for spring to come around the corner. Our fingers are crossed that 2022 brings back the 1000 events that are hosted on our diamonds annually and that the sunny warm days are filled with kids laughter and cheering as they round the bases to score the winning run.

The 2022 induction weekend will be held June 16-18. We hope to can join us for these exciting events:
-Our kickoff event Opening Pitch in Toronto on Thursday June 16 in partnership with Left Field Brewery
-The 24th annual Celebrity Golf Classic and Banquet on Friday June 17
-The 2022 Induction Ceremony on Saturday June 18
Visit our website for more information
Please consider supporting the work inside the museum, promoting and preserving the vast history of baseball in Canada. You could also consider supporting our 32 acre site and four top quality diamonds so the future of baseball can shine bright as the many thousands of children pull on their jersey, tie up their cleats, slap on their cap, put on their glove and the umpire can yell PLAY BALL!
It is through the generous donations of people like you that enable us to preserve and promote baseball in Canada.
Wishing you a safe, prosperous and happy new year.
Jeremy