Last Minute Gift Ideas from the Canadian Baseball Hall of Fame and Museum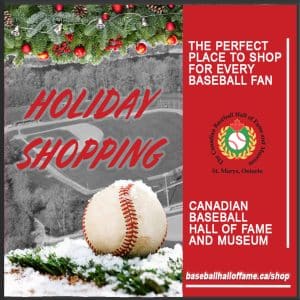 Happy Holidays from your friends here at the Canadian Baseball Hall of Fame and Museum!
Doing some last-minute holiday shopping for the baseball loving person on your list? Then consider the many ideas here at the Hall of Fame.
Our gift shop is fully stocked with over 100 autographed baseballs, 50 autographed bats and 50 autographed inductee cards, plus hats, clothing, books and baseball knickknacks for sale.
Our 10% off sale is on until December 31. Just use code: cbhfmhs when checking out. We can do rush delivery for you or for people that live in St. Marys or close enough for pickups they can be done until December 24th at 12pm.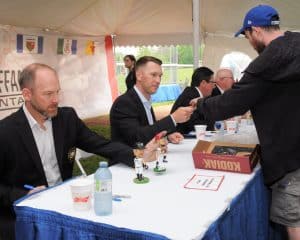 Another gift idea that keeps on giving throughout 2022 is a CBHFM annual membership. Five great options to choose from with benefits such as reserved seating at the induction ceremony, early access to the autograph session and dinner with the inductees.
Lastly, consider making a taxable donation on behalf of a family or friend for the holidays. All money raised goes back into the many programs we run and the archiving of our vast collection.
There is still time to give that special person an amazing gift and we have everything you might need.
Happy shopping!