Happy Holidays from the Canadian Baseball Hall of Fame and Museum
What a year it's been at the Canadian Baseball Hall of Fame & Museum. For the second year in a row, it was not business as usual but where we faced challenges, we found opportunities.
This year's induction ceremony was a special chance to honour and celebrate the contributions of some long forgotten pioneers and trailblazers of Canadian baseball. Because of this event, more people are now familiar with players like Jimmy Rattlesnake, Hipple Galloway and Helen Callaghan and the first Canadian championship team, the London Tecumsehs. Special thanks to Hall of Famer Bill Humber, and Andrew North for leading the charge to honour these legends of the game.
Our Jack Graney and Tip O'Neill Award winners this year are giants in the baseball world – one who has made a significant contribution to reporting on the game and one that is poised to be one of the greats on the field – John Lott of the National Post and Athletic and Vladimir Guerrero Jr. of the Toronto Blue Jays. Congrats to both!
We are thrilled with our new website, launched this summer, which features a much improved overall user experience; packed merchandise shop and regular digital exhibitions, including one now on the history of bobbleheads and baseball bats!

We were honoured, and humbled, to unveil a special memorial to celebrate the accomplishments and commitment of Derek Aucoin, former CBHFM board director; television broadcaster; and pitcher for the Montreal Expos. It was made extra special by having his wife Isabelle and son Dawson cut the ribbon.
Next year is shaping up to be one of our most successful to date. We look forward to hosting an in person induction ceremony on June 18 for the first time in three years – with both the 2020 and 2022 classes; unveiling newly renovated diamonds with increased accessibility; and announcing some exciting new projects both inside the museum, in your community and across the country.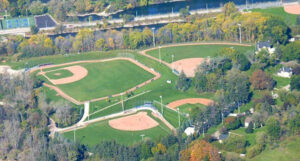 As the year comes to a close, I would like to thank all our members, supporters and visitors. You are what keeps us thinking of new and exciting ways to tell the stories of baseball in Canada. Also, a huge shout out to our board of directors and staff as we make a great team.
Please consider making a donation and/or purchasing a membership (for you and a friend!). All donations are tax deductible.
Thank you for your support. Happy Holidays, happy New Year and all the very best.
Jeremy Diamond
Chair