The Hall of Fame is the perfect place for generations of families and friends to share their memories and dreams about a constant in Canadian history – Baseball. Membership provides benefits to you and enables us to continue our efforts to proudly honour Canada's rich baseball heritage, as well as develop youth education programs using baseball as a medium to teach social justice and cultural awareness.
These memberships go by the calendar year and if you would like to purchase your membership online CLICK HERE.
Special to St. Marys residents only…HOMETOWN MEMBERSHIP FORM CLICK HERE
To print out your own 2017 Membership form and mail it to us CLICK HERE.
BASIC MEMBERSHIP – $50
1. Personalized Membership Card
2. CBHFM activity updates via email
3. Recognition in Annual Program
4. CBHFM exclusive membership Pin (new members only)
5. Early access to celebrity autograph session at Induction Ceremony
6. Income Tax Receipt*
FAMILY MEMBERSHIP – $75
(Basic Membership Privileges)
Good for two adults & two children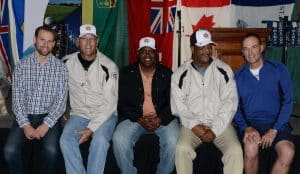 ELITE MEMBERSHIP – $100
(Basic Membership Privileges PLUS:)
1. Hall of Fame t-shirt & 10% discount on CBHFM merchandise (new members only)
2. CBHFM Annual Yearbook/program
3. Courtesy Copy of a great Baseball Book (new members only)
4. Set of Inductee baseball cards and Induction postcard
5. 30% discount on CBHFM merchandise (renewal members only)
6. FREE shipping on merchandise (excluding large items)
7. FREE admission to the CBHFM for you and one guest
8. FREE year-round admission to baseball events at CBHFM
9. Reserved seating (upon request) at Induction Ceremony
10. Advance purchase Celebrity Golf Classic Banquet tickets
HOME RUN – $500
(Basic & Elite Membership Privileges PLUS:)
1. Two Celebrity Golf Classic Banquet Tickets
2. Two seats in the fourth row for the Induction Ceremony
3. Two tickets for the Private VIP inductee dinner (Exclusive to Home Run & Grand Slam members only!)
GRAND SLAM -$1000
(Corporate/Service Club/Organization)
1. Four seats in the third row for the Induction Ceremony
2. Four tickets for the Private VIP inductee dinner
3. Recognition in program, on website & at Induction Ceremony
4. Use of Hall of Fame's St. Marys Cement Company Field for the day
*Your tax receipt will be for less than your membership fee, as registered charitable organizations are required to deduct the value attributed to the tangible benefits received in exchange for your membership.